With exhibitors from 38 nations on the show floor, March's Anuga FoodTec in Cologne, Germany was a showcase for global food packaging and processing technology. But rather than catering to manufacturers in Western markets, many of the exhibitors had their sights clearly set on the East, where growing domestic markets are generating all the demand suppliers can handle.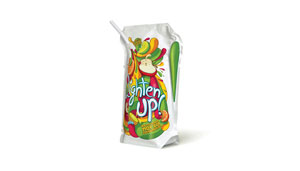 Aseptic portion packs with an optional attached straw are being fabricated by a Swedish firm, but the filling systems are going to Chinese and Russian manufacturers. Source: Ecolean AB.
A case in point is Greatview Aseptic Packaging Co., with offices in China and Switzerland. The company claims to be the world's second-largest supplier of roll-fed aseptic packaging material, with more than 10 billion cartons produced in the last two years. A third production facility will open this year in Germany, but Greatview's business development director says all roll stock and filling machines are committed to the Chinese market for the foreseeable future.
While Greatview is chasing Tetra Pak, Ecolean AB is applying its fellow Swede's business model to pouches for a wide range of beverages, including aseptic dairy. Helsingborg, Sweden-based Ecolean entered the Chinese and Russian markets in 1999, with an eye toward European and North American expansion. Instead, Asia still accounts for the vast majority of the applications for its pouches, which are composed of a calcium carbonate resin with a polyethylene or polypropylene binder. Other than organic dairies in Denmark that want "eco-focused, environmentally friendly packaging," virtually all the company's sales of preformed and printed pouches are in China and Russia, according to Anna Anneras, marketing manager.
Single-serve aseptic pouches in 200ml- and 250ml-sizes were featured at Ecolean's booth. The company uses electron-beam technology to sterilize the pouches after forming, then ships the containers for filling on Ecolean equipment. The aseptic filler can produce 9,000 250ml-pouches an hour. In addition to filling, the system inflates an air pocket that serves as a gripping handle. The air handle has been in the market a decade, but to date, no other suppliers have been able to duplicate the capability, Anneras says. 
For more information:
Anna Anneras, Ecolean AB, 46-42 450 45 00,