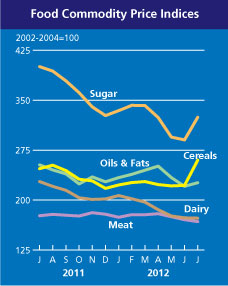 Source: FAO.
The United Nations' Food and Agriculture Organization (FAO) reports a 6 percent increase in its Food Price Index for the month of July after three months of decline. The index measures the monthly change in the international prices of a basket of food commodities. The index averaged 213 points, up 12 points from June but well below the February 2011 peak of 238 points. The sharp increase was attributed primarily to a surge in grain and sugar prices. International prices of meat and dairy barely changed.
The severe deterioration of US corn prospects following extensive drought conditions pushed up corn prices by almost 23 percent in July. International wheat futures also surged 19 percent due to worsened production prospects in the Russian Federation and expectations of strong demand for wheat as feed because of tight corn supplies. International rice prices, however, remained largely unchanged in July, with the FAO overall rice price index stable at 238, barely one point above June.
The FAO sugar price index leaped 12 percent (34 points) from June to a new level of 324 points. The FAO attributes the sharp upturn to untimely rains during the month of March that hampered sugarcane harvesting in Brazil, the world's largest sugar producer.
The FAO meat price index averaged 168 points in July, down 1.7 percent (3 points) from June; it was the third consecutive monthly fall. Market weakness characterized the four major meat sectors, particularly pork, which saw prices fall by 3.6 percent. Popular belief is that beef prices will eventually rise due to Midwest drought.
A Reuters poll of 21 analysts estimated US corn yield for this year will be 127 bushels per acre, the lowest since 1997. Meanwhile, December corn futures rose to $8.2975 per bushel, the highest price ever recorded for a Chicago Board of Trade corn futures contract.
Though still early to show the effects of the drought, USDA-tabulated total agricultural exports year to date (through the end of June 2012) are $67.25 billion, running behind the total for the same period in 2011, which were $70.369 billion. Imports for January to June 2012  were $52.976 billion while they were $49.869 billion for the same period in 2011. Through the end of June this year, the USDA-calculated trade balance was $14.274 billion; the same period last year showed a $20.5 billion trade balance in the US's favor.