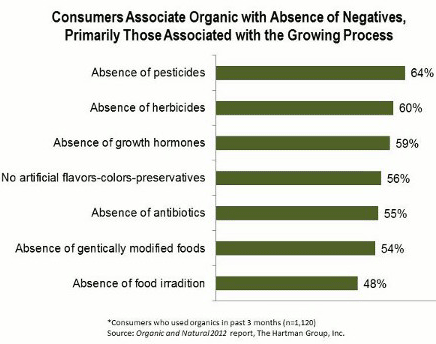 A recent Stanford University study concluded organic foods are no more nutritious than their conventionally produced equivalents. But the results of the Stanford survey are not likely to deter consumers from purchasing organics, according to findings from a report by The Hartman Group. The report is entitled Organic and Natural 2012.
"Shoppers historically adopt and continue their purchase and consumption of organic foods and beverages for reasons that extend beyond nutritional values," says Laurie Demeritt, The Hartman Group's president and COO. "Organic gained prominence for the many other quality and health notions it represents, like authentic, pure and most importantly, the halo of being free from negative ingredients."
Beyond these healthful reasons, the absence of other negatives outshines many other factors associated with the purchase of organics. As shown in the bar graph, the absence of genetically modified foods and growth hormones is also motivation for the purchase of organic foods and beverages.
While the Stanford study didn't find any pluses in the nutritional area of organics, it did find that phosphorous was significantly higher in organic products compared to conventionally grown products, but it isn't significant for most consumers unless they have a diagnosed phosphorous deficiency. In addition, the Stanford study did find organic milk often contained "significantly higher levels of omega-3 fatty acids" than conventional milk. Otherwise, there was no difference in protein or fat levels between organic and conventional milk.
The Stanford study yielded scant evidence conventional foods posed greater health risks than organic products. While researchers found organic produce had a 30 percent lower risk of pesticide contamination than conventional fruits and vegetables, organic foods are not necessarily 100 percent free of pesticides. Stanford researchers found pesticide levels of all foods generally fell within the allowable safety limits.
According to the Stanford study, two reports of children consuming organic and conventional diets did find lower levels of pesticide residues in the urine of children on organic diets, though the significance of these findings on child health is unclear. Additionally, organic chicken and pork appeared to reduce exposure to antibiotic-resistant bacteria, but the clinical significance of this is also unclear.
"If you look beyond health effects, there are plenty of other reasons to buy organic instead of conventional," says Dena Bravata, MD, the senior author of Stanford study. She listed taste preferences and concerns about the effects of conventional farming practices on the environment and animal welfare as some of the reasons people choose organic products.
"Consumers are much more knowledgeable about organics today than they were 10 years ago," says The Hartman Group's Demeritt. "In addition, as the organic marketplace has evolved, consumers are demanding even more from organic manufacturers in terms of transparency and narratives regarding product origin. They are also now looking to retailers as docents in the product selection process."
For more information on the The Hartman Group study, Organic and Natural 2012, contact Blaine Becker via email.