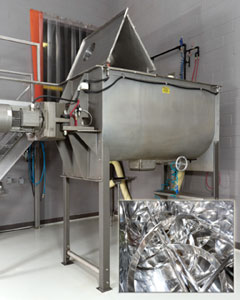 Munson Model HD-3 1/2-7-SS horizontal ribbon blender blends materials of widely varying bulk densities. The blender occupies its own sanitary room to minimize cross-contamination and comply with GMP, HACCP and other standards. (Inset): A stainless steel, split double helical agitator subjects every particle of material to agitation.
Source: Munson Machinery.
Versatile and easy to clean blender saves changeover time and increases production output.
Quality Custom Blending Ltd. is a family-owned and operated business specializing in the custom blending of dried powdered food products, including drink crystals, rice products, pastry/dough improvers and various powdered blends for the food and beverage industry. Founded in 1976, the company has grown to become a major supplier to US, Canadian, European and Asian food companies from its two locations in Trenton and Mississauga, ON.
A major factor influencing the company's growth is its insistence on maintaining high quality standards, including GMP and HACCP. The processor takes great steps to assure compliance with these standards, including the visual inspection of all incoming and blended materials, sifting and monitoring materials for particle size and integrity, passing them through a rare-earth magnet for product safety and blending them in validated, sanitary and well-maintained ribbon blenders, each in its own sanitary room to prevent any possibility of cross-contamination. 
"In 2006, we had grown to the point where we needed to add a second ribbon blender to our Trenton facility, in addition to the three already installed at Mississauga," says David Butler, Trenton plant manager. "We compared machines available from several manufacturers, including the supplier of our original four machines. It looked like the Munson Model HD-3 1/2-7-SS horizontal ribbon blender with a capacity of 65 cu. ft. might be the best fit for our needs."
"We blend a wide array of food products," explains Butler. "Batch sizes can vary from as little as 550 lbs. to 2,200 lbs. [the full capacity of the blender], but usually average about 2,200 lbs. The amount of material being added can range from as little as 0.25 percent of the final blend all the way up to 50 percent, so we need versatility, which is one of the reasons we selected the Munson blender.
"We don't measure the bulk densities of the ingredients provided by our customers," says Butler, "but they vary widely, and the blender can easily handle all of them. In one case, 1,325 lbs. of a very dense material was loaded into the blender. Because we chose the option of centrifugal clutch motor couplings for startup under load, the blender started immediately.
"We try to schedule our production runs to minimize the number of product changeovers, and have the capability to run as many as three different products in one day. We usually average about eight to 10 batches before switching products. A long run may last as long as three or four days." With each batch, an operator activates the blender, and the agitator blades begin to rotate when the blender is half-full. A typical batch takes about an hour. 
When a batch is completed, the blended product is discharged through a slide gate and fed through a magnet to detect any metal particles, then fed directly through chutes into the final packages supplied by the customer. 
Changeover between products is fast and easy. "Because of the tight tolerance of 1/16 to 1/32 in. between the ribbon blades and the blender wall, very little material from the previous run remains to be cleaned out. We simply remove the ends to power wash and sanitize the interior of the blender," Butler says.
For more information: 
Steve Knauth, 315-797-0090, info@munsonmachinery.com