New Products
Technology Sourcebook
Horizontal f/f/s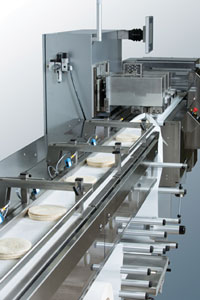 Combining an inverted and long-dwell flow wrapper, the Bosch Pack 301 horizontal form/fill/seal machine provides gentle product handling and hermetically sealed seams. The wrapper features a consistent seal time independent of the machine's product flow. By allowing independent control of the processing temperature on the top and bottom sealing jaws, the wrapper accommodates thicker films. A modular film backstand can be located in various positions relative to the infeed and wrapper. The machine can be used with automated and manual systems, and integrates with a variety of infeeds such as flighted, lug-less, trough style and belt feeders.
Bosch Packaging Technology; www.boschpackaging.com


I want to hear from you. Tell me how we can improve.