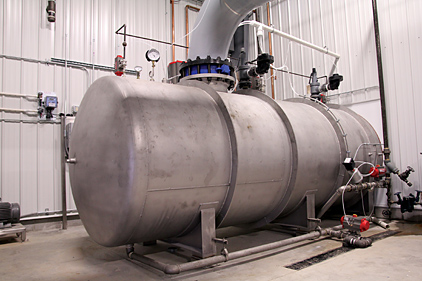 The diced potato retort, which some processors use to cook chickpeas and other vegetables, is designed by CMI and integrates a Delta cooling tower as a complete package. Source: Delta Cooling Towers.
Cooking potatoes to make potato salad requires a lot of heat, followed by quick cooling before the oil, mayo and seasonings are added. Among the more sophisticated cooking systems that are perfect for potato salad is the vacuum-sealed retort, a vessel used to cook diced potatoes within half an hour, and then chill the product to 35°F within just 17 minutes, through an evaporative cooling system that uses no conventional refrigeration. While a retort works well in this application, it does have to be teamed up with a cooling tower to dissipate some of the heat. This places special demands on the cooling tower.
"This type of system enables producers of fresh potato salads to cook and mix high volumes very quickly with equipment that requires a relatively small footprint compared to linear systems that require refrigeration or mechanical cooling," explains Carl Illiff, vice president of CMI Equipment & Engineering (Glencoe, MN), a designer and fabricator of specialized food processing equipment.
Illiff says that because the potatoes are cooled and chilled within a sealed retort, the food is not exposed to the air when being chilled, as with mechanical systems such as a blast cooler.
"If the potato salad producer were to chill the diced potatoes in a blast cooler, it would take 18-20 hours to cool it," he explains "And in the process, it will be exposed to bacteria, mold and yeast that are being circulated through these fans on the cooler." Illiff adds that when food is exposed to such biological organisms, shelf life is compromised unless the processor adds preservatives, something consumers don't want to see on the labels of fresh foods.
The diced potato retort, which some food processors use to cook chickpeas and other vegetables, is designed by CMI as a complete, high-quality package. The main part of the system, a cylindrical chamber loaded with carts and trays, is all stainless steel and capable of a holding a vacuum of over 30 in. The retort is normally between 12- and 22-ft. long and about five ft. in diameter, depending on customer specifications. Smaller models can cook and cool 2,000 lbs. of potatoes per hour; the largest ones can cook up to 8,000 lbs. per hour.
Contained inside an upper chamber in the retort are a shell-and-tube condenser and a liquid-ring vacuum pump that is, in turn, connected to a cooling tower. The shell-and-tube condenser provides evaporative cooling under the high vacuum pressure created by the pump. Evaporated water is circulated from the condenser to the cooling tower and back to provide a continuous chilling effect. "When you remove the diced potatoes they are nice and cold, and ready to mix with the potato salad dressing, then package and ship to the customer—all with hardly any exposure to air," says Illiff.
Because the retort has a long life and operates reliably for several years, the trick was to match it with a cooling tower that's just as reliable. When you have 8,000 lbs. of potatoes steaming with heat, you can't afford to have anything less than a reliable cooling system, says Illiff. Otherwise you'll end up with four tons of mashed potatoes. "We were very concerned about the reliability, service requirements and lifespan of the cooling tower," Illiff explains, "because our cooling system is dependent on it working correctly for a long period of time."
In exploring the cooling available, he found the majority of models had the traditional, galvanized metal-clad design. Illiff was not satisfied with this kind of engineering, which promised to be maintenance intensive along with possible frequent periods of downtime.
Eventually he found what appeared to be a highly attractive alternative to the traditional cooling tower, a design that featured a high-density polyethylene (HDPE) shell and enclosed direct-drive motor assembly that promised to provide highly reliable operation with very low maintenance.
HDPE cooling tower shells are virtually impermeable to corrosive elements, including water treatment chemicals such as chlorine, as well as UV rays. "We found this HDPE cooling tower at Delta Cooling Towers [deltacooling.com], the manufacturer that originally developed the 'plastic' design, and has installed industrial, commercial and institutional systems nationwide since the 1970s."
Besides the HDPE shell design, what attracted Illiff to the Delta design was the 15-year factory warranty. He thought this would be a good match to his retort-based cooking system. Also, the HDPE cooling towers were available in a wide range of sizes from 10 to 2,000 tons (CMI normally installs 250- or 500-ton sizes).
"These cooling towers are also lighter in weight," Illiff adds, "so only a relatively simple stand is required to support it. We installed one recently, for example, and counting the time it took to assemble a stand for it, we had the entire cooling tower system installed in half a day."
For more information, contact Delta Cooling Towers, Inc., 800-289-3358 or via email.