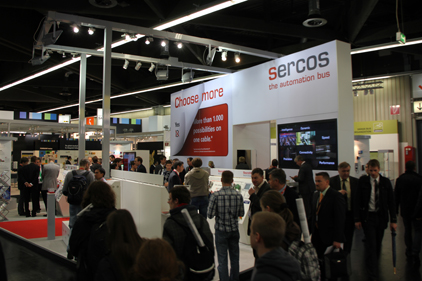 sercos international announced its SPS IPC Drives Exhibition in Nuremberg, Germany broke previous records for visitors and exhibitors. The increase in attendance reinforces a prediction from the IMS research study, The world market for Industrial Ethernet Components, that sercos III will achieve the second-largest growth rate among newly installed Ethernet nodes in industrial use by 2015.
One demonstration showed how a blended infrastructure is used for sercos III and EtherNet/IP devices by connecting the devices with control prototypes from Bosch Rexroth and Schneider Electric, using a common Ethernet infrastructure via a single cable.
A safe protocol developed for CIP safety on sercos by IXXAT Automation was based on sercos Messaging Protocol. Its unrestricted use for EtherNet/IP is possible due to the modular architecture of the software.
TR-Electronic announced the CEV58M ES3, the first absolute encoder with Industrial Ethernet, is available and can be directly integrated into sercos III networks.
An additional innovation from CANNON-Automata allows SSI encoders from any manufacturer to be integrated into sercos III real-time Ethernet networks. TopoExtension, a new infrastructure component, introduces new installation options and topology variants for sercos III networks.
"We appreciate the visitors' strong interest," says Peter Lutz, managing director of sercos international. "This shows that we and our members are on the right path with our business orientation and technological innovations, and that we manage to implement the requirements of users and interested parties quickly and systematically."