Justice Department challenges Anheuser-Busch InBev merger
A lawsuit says the merger would create an unfair monopoly.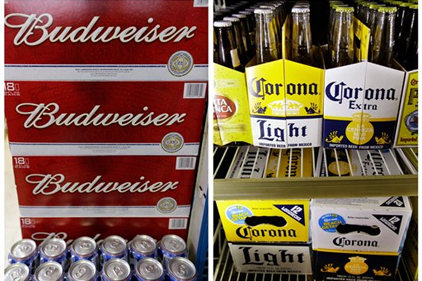 The US Justice Department filed a lawsuit to halt Anheuser-Busch InBev's (ABI) proposed $20.1 billion purchase of Mexican brewing company Grupo Modelo, maker of brands including Corona. The lawsuit claims that the merger would reduce competition in the US beer market and lead to significantly higher prices, particularly in 26 metropolitan areas. ABI resolved to defend its deal in court. ABI is the largest US brewer and Grupo Modelo ranks third in US sales. Together, they would control about 46 percent of annual beer sales in the US. According to court papers, ABI is the industry price leader but has been undercut by Modelo's refusal to raise prices. The lawsuit hurts the chances of a related $1.85 billion deal that would have seen Constellation Brands, Inc. buy Modelo's 50 percent share of Crown Imports. The joint venture has allowed Constellation to import, market and sell Modelo's beer in the US for two decades. The deal was intended to alleviate antitrust concerns by removing some price setting power from a merged ABI-Modelo, but the Justice Department said it wouldn't do enough to prevent steep beer price increases.


I want to hear from you. Tell me how we can improve.