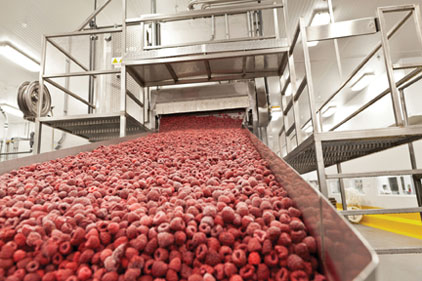 Raspberries exit the GEA Aerofreeze AY series tunnel freezer and earn a consistent USDA Grade A rating for quality. Source: GEA Refrigeration Canada.
Enfield Farms, a Lynden, WA-based family-owned and operated business for more than 30 years, produces high-quality blueberries and raspberries, maintaining complete control over every aspect of its berry products. From poly-bagged, individually quick frozen (IQF) berries to juice concentrate, orders for premium red raspberries and blueberries are prepared to meet customer needs.
Product quality is critical to raspberry processors that face challenges in maintaining the delicate attributes of the berry during the preservation process. The berry's hollow shape makes it susceptible to crushing. To maintain the shape, liquid nitrogen crusting freezers have been used in front of the traditional IQF raspberry freezer as one of the few viable methods of conditioning the berries before deep freezing. Though effective, liquid nitrogen is an expensive proposition.
"We take pride in using the most progressive farming techniques and the latest technology in processing to produce exceptional fruit for our customers," says Andy Enfield of Enfield Farms. "We did not have a way to preserve our raspberries that would ensure the quality of the product without liquid nitrogen. However, using liquid nitrogen can get very expensive as we were using about two to three tanker loads per day with our old tunnel. We wanted to eliminate the use of liquid nitrogen and find a way to maintain the high quality of our product, without the huge expense."
A big challenge in maintaining product quality is that uneven temperature distribution during the freezing process can cause broken pieces of fruit that clump together.
In its search for an alternative freezing method, Enfield looked into GEA Refrigeration Canada's (formerly GEA Aerofreeze Systems) new IQF tunnel freezer called the Aerofreeze AY Series. This freezer eliminates the need for liquid nitrogen or any other cryogenic crusting process. The tunnel's fully welded, enclosed architecture helps provide a powerful, yet gentle airflow. A specially designed belt conveying system freezes the berries evenly to the highest quality. The freezer provides a combination of even air distribution, higher air pressure than conventional belt freezers and mechanical agitators, resulting in less product breakage and clumping. The freezer operates at a suction temperature of -35°C or -31°F.
As a result, Enfield Farms is realizing reduced operational costs because it no longer needs to use liquid nitrogen or another cryogenic crusting process. "We are now able to freeze our raspberries without the use of liquid nitrogen," says Enfield. "This new tunnel really does an exceptional job of freezing. We are very impressed with the freezer, and the ability to be able to freeze without liquid nitrogen is a huge benefit to our operations." 
Product quality has improved with the implementation of the new IQF tunnel, as Enfield has seen a big reduction in the number of clumped and broken pieces.  
"This new freezer is giving us greater control and a huge cost savings from our previous method," concludes Enfield. "This freezer has reduced our operational costs tremendously while improving product quality."
For more information:
Paul Osterstrom, 425-869-8889, paul.osterstrom@gea.com