Genetically modified salmon can breed with conventional wild fish
The risk of a modified fish entering the wild is low, but offspring would exhibit genetic differences.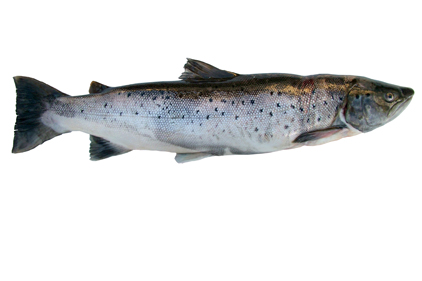 According to new research published in the Canadian journal Proceedings of the Royal Society B., genetically modified (GM) Atlantic salmon are capable of cross-breeding with natural brown trout. Around 40 percent of offspring retained the GM salmon's quick growth in research trials, and hybrid offspring outcompeted both GM and conventional salmon. Researchers say that could have broad ecological impacts if genetically modified fish ever get into the wild.
AquaBounty Technologies Inc, the biotech company that created the GM salmon, the risk of cross-breeding is negligible as their GM salmon would be female, sterile and kept in tanks on land. "Overall, the study seems to present no new evidence for any added environmental risk associated with the AquAdvantage salmon," says Ron Stotish, CEO of AquaBounty. USDA is currently evaluating AquaBounty's GM salmon for sale.


I want to hear from you. Tell me how we can improve.