Hackathon focuses on future of sustainable meat
The groups innovated hardware and software solutions to the challenges of raising, processing and marketing sustainable meat.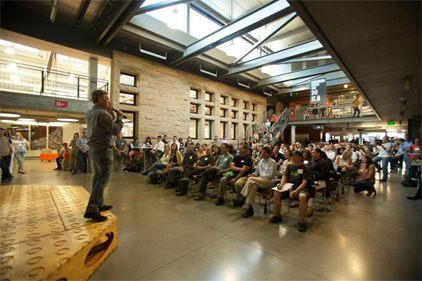 For 48 hours from June 21-23, over 250 food industry leaders, entrepreneurs and technology and creative professionals gathered at Hack/Meat Silicon Valley to innovate hardware and software solutions for sustainable meat production. The hackathon's 24 teams tackled issues including limited access to farmland, food labeling, whole animal utilization and the distinct taste of grass-fed meats.
The grand prize went to FarmStacker, a tool to connect young farmers with land and capital. The prize for best business went to Cow Share With Us, a purchasing platform facilitating group purchases of whole animals. Buyotic, an app that helps consumers locate antibiotic-free chicken, won best social good project, while a Google glass app called Agent Yum that allows shoppers to scan grocery store products for GMO and antibiotic information, won for best technology. Beefopedia, a web-based portal for educating consumers on the qualities of heritage beef, won best design. For more information on Hack/Meat Silicon Valley, visit Food+Tech Connect.


I want to hear from you. Tell me how we can improve.