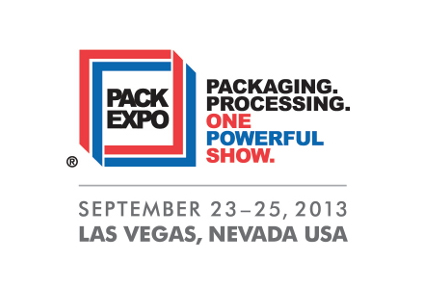 Today's competitive economic climate and complex regulatory landscape demand much of consumer product manufacturers. To stay at the forefront of the industry, food and beverage manufacturers must continuously invest in innovation, advancing automation, shelf appeal, sustainability measures, efficiency—and minimizing total systems costs.
To help these manufacturers stay competitive, PACK EXPO Las Vegas 2013 (September 23-25; Las Vegas Convention Center)will present a forum to discover new processing and packaging technologies, gain insights and create valuable connections.
Material and equipment innovations featured at PACK EXPO will help processors address a wide range of challenges and leverage new opportunities. Trends represented on the show floor will include sustainability initiatives, advancing automation and addressing concerns surrounding evolving food safety regulations. We spoke with Julie Ackerman, senior director of communications at PMMI, The Association for Packaging and Processing Technologieswhich owns and produces PACK EXPO Las Vegas, about the breadth of technologies on display at the show.
FE: Discussions around the Food Safety Modernization Act (FSMA) continue to elevate food safety as a priority. What solutions can attendees expect to see that address these concerns?
Ackerman: More and more, suppliers are designing equipment for maximum efficiency in cleaning. This means eliminating areas where water or product can pool, minimizing surface areas and dividing machinery into modular components that can be removed, sanitized and replaced. We'll see many examples of these improvements on the show floor. It's safe to say we'll also see stainless steam prominently featured because of its ability to combat the warm, moist, bacteria-prone environments in which most food is processed. Some companies are taking designs to a new level, with advanced stainless steel electric motors that reduce crevices and promote the cleaning of previously inaccessible areas. These sleek motor designs allow contaminants to be flushed from the inside out with additions such as spray cleaning endbells.
New fully jacketed sanitary ball valves promote a free-flow fluid transfer to diminish the solidification of liquids, semi-liquids and solid-in-liquid products. The valve also introduces heating and cooling applications to products, and eliminates hazardous electric heating wraps with loose wires draped around the valves. It's suited for any food manufacturing where product solidification is a concern, and features a safe, clean design that benefits producers of chocolates, confections and meats containing fats and tallow.
FE: The store shelves are getting more crowded. How can brand owners differentiate products at the point of purchase?
Ackerman: Technologies specializing in heat sealing and ultrasonic welding for enhanced shelf appeal will help reduce downtime, improve overall equipment effectiveness [OEE], reduce material waste and offer a better display area for graphics. The process provides a clean space on the back of the package for additional graphics and offers more space to increase visibility on store shelves.
Among the many materials and containers attendees will find in The Brand Zone, located in the lower south hall, will be innovations in convenience. For example, ready-to-cook smoothwall containers are designed to be shatterproof when frozen and allow the food to be directly prepared on the grill, in the microwave or in the oven. The containers' unique design and appearance also grab consumers' attention.
FE: More and more, line automation is playing a key role in operations. What are some recent advancements in this area?
Ackerman: Among automated technologies, we expect to see more robotic offerings that require no changeover for different product runs and feature a more compact design to conserve floor space. A great example is a new box-erecting machine that uses a fixed tool to erect and tape boxes, eliminating complex mechanisms like adjustment knobs, wheels and dials. This technology can handle multiple box sizes and requires less maintenance time and labor costs.
We're also seeing more mobile technologies integrated into line equipment. For example, new devices and software can assist engineers in determining the appropriate case packs, pallet patterns and vehicle optimization for single-serve products. They can connect to the server via tablets and smart phones, which will ultimately help decrease IT support costs and optimize the management of data and information.
FE: Is there anything else attendees should know about PACK EXPO Las Vegas before they head to the show?
Ackerman: Certainly. With nearly 1,750 exhibitors showcasing technologies across over 700,000 square feet, PACK EXPO Las Vegas 2013 will be the largest processing and packaging event of the year in North America.
As part of our customer-centric approach, PACK EXPO will provide attendees with several guide-post features to help them navigate the show and make the most of their time on the floor. The Confectionery Pavilion, in the upper south hall, is endorsed by the National Confectionery Association [NCA] and will feature exhibitors offering processing and packaging solutions for confectionery manufacturers. The Candy Bar lounge, also endorsed by NCA, will be nearby for networking and meetings. Similarly, the Baking-Snack Break lounge (endorsed by the Snack Food Association) and the Beverage Cooler lounge (endorsed by the International Society of Beverage Technologists) will be dedicated areas for those industry professionals. 
New this year, the SMB FastTrack program will provide small and medium-sized businesses [SMBs] with customized services, greater access to innovative packaging and processing solutions, networking opportunities, and other resources vital to business success. In the SMB FastTrack Networking Center, representatives of the U.S. Small Business Association [SBA] and the SCORE Association will be on hand to discuss grant and loan opportunities and provide counsel on contracting resources, importing/exporting and other topics.
Attendees  also should check out The Processing Zone, in the south hall, which will house a wide range of processing technologies for manufacturing sectors such as the baking and snack, beverage, dairy and confectionery industries, as well as other vertical sectors.
To register for PACK EXPO Las Vegas 2013, visit www.packexpo.com. A discounted registration rate of $30 applies until September 9, when it increases to $60.