New Products
Technology Sourcebook
Lifting device
Allowing nearly weightless movement of loads up to 350kg, the Konecranes ATB AirBalancer lifting device achieves movement speeds up to 390 ft./sec. and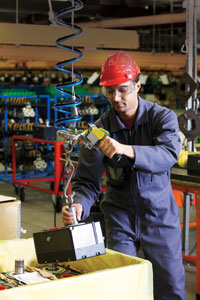 includes an automatic load balancing feature that allows operators to move loads in zero gravity mode. It holds a load in the event of air supply loss. Compatible with a variety of other crane systems, the device offers load weight compensation for predictable movement of loads regardless of variances in weight.
Konecranes, Inc.; www.konecranes.com


I want to hear from you. Tell me how we can improve.