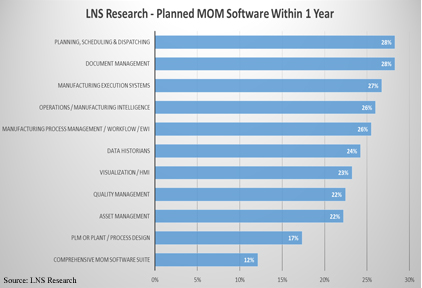 With manufacturing operations management (MOM) software delivering rapid ROI for food processors, it's no surprise more and more operations are considering implementation. But given the numerous options available, from rolling out specific MOM applications and scaling up to installing a complete MOM suite up front, manufacturers must make tough choices before additional investment. A post from LNS Research uses benchmarked data to examine trends surrounding MOM today and discusses how best to approach the investment.
The 2012-13 MOM survey was completed by over 100 executives and manufacturing decision-makers across a broad range of company sizes and industries, and found MOM software is currently in use in 11 manufacturing applications. See the image above for MOM applications by percentage of respondents.
At 39, 38 and 36 percent, the most commonly adopted software applications focused on quality management, planning, scheduling and dispatching, and document management, respectively. Operations/manufacturing intelligence and manufacturing process management/workflow/EVI represent some of the least-commonly adopted applications, but implementation appears set to grow: LNS found both applications ranked in the top five of planned MOM investments in the upcoming year, with 26 percent of respondents indicating they will implement these applications.
LNS also found full MOM suite implementation to be less common than installing specific applications, suggesting manufacturers are targeting specific areas for improvement with MOM rather than the entire operation. When MOM implementation was broken down by business unit level, plant level and corporate level, however, planned and current implementation was divided relatively evenly.
When choosing a MOM implementation strategy, LNS recommends utilizing its Solution Selection Guide, which contains individualized overviews and analyses of vendors' business strategies, solution capabilities, industry expertise, geographic coverage, technology delivery models and more. The guide is available free after taking a short survey. Click here for more information.