A new packaging design from SIG Combibloc creates what is said to be the world's first foldable bottle. The design combines the best features of a carton pack with the best features of a bottle, while reducing its carbon impact versus PET or glass.
The combidome carton bottle won two European packaging awards this year, including a Beverage Innovation Award in the category of best carton or pouch. The awards are presented annually by FoodBev.com in cooperation with the Union of European Soft Drinks Association (UNESDA) and Wirtschaftsvereinigung Alkoholfreie Getränke e.V., Germany's trade association for nonalcoholic beverages. The bottle also won the German Packaging Award in the category of Best Sales Packaging: Beverages. This award is presented under the auspices of Germany's Federal Ministry of Economics and Technology.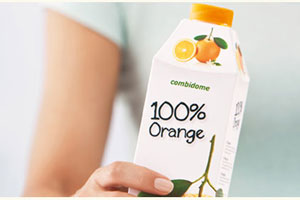 A new award-winning package design from SIG Combibloc, combidome combines the properties of an aseptic carton pack with a bottle's ease and handling. It is made from mainly renewable materials and is fully recyclable. Source: SIG Combibloc.
The carton pack has a single action domeTwist screw cap featuring a 28mm inner diameter. The large diameter closure ensures smooth pouring and enables customers to drink straight from the carton pack.  The shape of the carton pack makes it easy for consumers to handle, much like a bottle. At the same time, the carton pack performs as an aseptic package, where filled beverages are hygienically packaged and securely protected from light and air and can be stored without refrigeration or preservatives for long periods of time with no loss of product flavor, color, nutrients or vitamins. As long as the carton pack is left unopened, refrigeration is not required.
The combidome package contains two sections: a carton body composed of a cardboard composite from the base to the dome and the domeTwist screw cap. Inside the combidome filling machine, the two components are assembled into the finished carton pack, aseptically filled and securely sealed. The package can be produced in a range of sizes at rates up to 12,000 carton packs per hour. The fully recyclable combidome package and closure are compatible with all national recycling and waste management systems. It can be disposed of and recycled as a single unit.
The combidome carton pack is made primarily of raw wood paperboard and polymers. The paperboard is the main component (75 percent) and gives the package stability. combidome uses only raw cardboard made of pulp from trees harvested in forests certified by the Forest Stewardship Council or from other controlled sources.
The carton pack features inner polymer layers that form a liquid barrier for the beverage; an outer polymer layer keeps out moisture. The protective, composite structure of the carton pack also contains a thin aluminum layer that protects the product from light, oxygen and external odors.
Over the full product lifecycle, the combidome carton pack generates 41 percent less CO2, uses 51 percent fewer fossil resources and consumes 33 percent less primary energy than disposable PET multilayer bottles; when compared to disposable monolayer PET bottles, these figures are 27 percent less CO2, 42 percent fewer fossil resources and 20 percent less primary energy. Compared to disposable glass bottles, combidome generates 75 percent less CO2, uses 66 percent fewer fossil resources and consumes 60 percent less primary energy. v
For more information:
 Tim Kirchen, 610-546-4200, sigcombiblocusa@sig.biz