New Products
Technology Sourcebook
Tray loader-former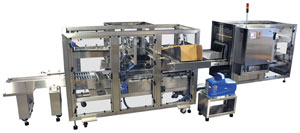 Completely servo-driven, the Polypack intermittent motion tray loader-former runs at speeds up to 20 trays/min. It is available with a variety of product collation modules, and can be combined with a Polypack shrink wrapper for a single-source solution for pallet-ready packs.
Polypack, Inc.; 727-578-5000; www.polypack.com


I want to hear from you. Tell me how we can improve.