New Products
Technology Sourcebook
Motor disconnects/switched receptacles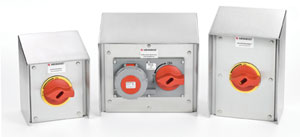 Designed for sanitary food production areas, MENNEKES SPEC-grade motor disconnects and switched receptacles have a 15° sloped-top roof, drainage channel and sealed fixing holes for flush rear-wall mounting. They are housed in 304 stainless steel. Multiple compact enclosure solutions with switches rated from 25 to 100A and 5 to 50hp, as well as 20 and 30A pin and sleeve styles, are available.
MENNEKES; www.mennekes.com


I want to hear from you. Tell me how we can improve.