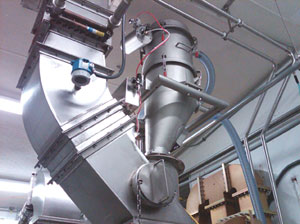 Nutriom uses two VAC-U-MAX pneumatic conveyors with a mixer. One system breaks up the powder and puts it into the mixer, while the other pulls it out of the mixer. Source: VAC-U-MAX.
Nutriom sets the bar high when it comes to producing its natural, powdered egg products, Ova Easy and Egg Crystals. So when the screw conveyor in its Lacey, WA facility required frequent, unexpected attention, Plant Manager Leonardo Etcheto knew it was time to look for a better solution.
Nutriom's process preserves the flavor and functionality of the eggs, and the company needed a system that would work within that specialized process to improve efficiency without damaging the crystals. "The screw conveyor was a difficult system to handle," says Etcheto. "There were a lot of moving parts, and that meant there were more things that could go wrong. It was a difficult system to clean and maintain."
Improved efficiency and gentle transfer weren't the only requirements. "We needed a conveyor manufacturer that was able to modify its equipment to meet our needs," Etcheto explains. "We wanted something that would not touch the product. Plus, it had to be full stainless steel and allow us to get away from having to use oil."
The food-grade screw conveyor at the Lacey plant had a plastic housing, which had the potential to deposit debris or shavings into product without being detected. The screw conveyor also housed a gear box on top of it that required expensive H1 lubricants which, on occasion, despite regular maintenance, would leak and create a mess. 
"We have a lot of height restrictions because our building is older and has many areas with low ceilings. VAC-U-MAX was able to come up with a system that could fit in the space we have," Etcheto says.
Etcheto began with one VAC-U-MAX pneumatic conveying system, and based on its successful performance, "we just kept adding," he says. Now, the facility utilizes two pneumatic conveyors that connect to packaging systems, two that connect to the low-temperature dryers and two that connect to a mixer—one system breaks up the powder and puts it into the mixer, and the other pulls it out.
"One of the reasons we use pneumatics is because we produce a very high-quality, high-priced product, and we want to make sure we maintain the high quality. The systems do a good job pulling the product without damaging it." 
Previously, the screw conveyor ground down the egg product as it transferred the material, making the crystals more difficult to handle. The screw conveyor also needed a fair amount of egg to be in the system for it to work properly, which sometimes bogged down the process. 
"The enclosed system allows more ideal handling," says Etcheto. "It's standard GMP to make sure nobody is handling our product, and the system easily allows us to do that. Product is always traveling pneumatically through stainless lines," he says. "The system is definitely cleaner than the screw conveyor we used before."
VAC-U-MAX's systems are fully enclosed, protecting materials from air, dirt and waste. Because product does not escape from a vacuum conveying system, particulates that can endanger or jam expensive equipment are prevented from entering the environment.
The vacuum conveying systems have a complete stainless steel construction, and all product contact areas are 316L with a polished surface for ease of cleaning and product flow. Nutriom utilizes two types of vacuum generation to accommodate its unique process. For areas with low ceiling clearance, VAC-U-MAX modified its filter lids to fit the tight spaces; these units use compressed air to generate vacuum. In areas where ceiling height is not an issue, more efficient vacuum pumps are utilized. To further accommodate Nutriom's stringent standards, the conveyor manufacturer used stainless steel rings to replace the iron rings that secured the filter.
The systems have also improved ergonomics in the plant. "One of our systems moves the powder 10 ft. up.  Before implementing the pneumatic conveyors, the material had to be transferred manually," says Etcheto.
"Over time, it's really been surprising how reliable the VAC-U-MAX systems are," Etcheto adds. "With the screw conveyor, we had to do something to it at least once a month. By replacing it with a pneumatic conveying system, we have saved over $150,000 annually." 
For more information:
Doan Pendleton, info@VAC-U-MAX.com, 973-759-4600