Not all refrigerated food and beverage warehouses have the luxury of being located away from people in wide-open spaces next to an interstate and a railroad spur. Many are located in congested downtown areas or suburban areas with sprawl in every direction. Why should location matter? Imagine a worst-case scenario where 10,000 pounds or more of dangerous ammonia gas burst forth into the surrounding neighborhood due to a catastrophic leak caused by equipment failures … or even worse, an extreme weather event.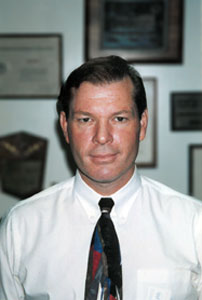 John S. Scherer,
chief technology
officer, NXTCOLD
While new government safety regulations are attempting to limit the amount of ammonia at any one location, this reduction presents a real challenge to architects and builders who are constructing bigger and bigger refrigerated/frozen warehouses, with interior spaces that often exceed 5 million cubic feet. While an ammonia-based refrigeration system that uses a lot less refrigerant would be a safe solution,  achieving a workable design has been akin to the search for the Holy Grail—that is, until recently.
John S. Scherer found himself in the above predicament when he left his chief engineering position with US Cold Storage in Riverside, CA to assume the role of manager of engineering for all Los Angeles Cold Storage (LACS) locations in 1978. Over the years, Scherer modernized LACS, focusing on downtown LA locations, with new approaches and solutions to make the refrigeration systems more efficient and less costly to operate. He brought plants with old systems up to date and provided designs for new facilities construction.
In cooperation with LACS, he also developed food-, water- and power-related technologies for which many patents have been granted. Scherer's persistence in developing a new refrigeration system design—one that not only reduces the amount of ammonia used at a facility to a safe level, but also saves energy—turned into a definite win-win scenario.
Scherer's most recent patent (Refrigeration System Controlled by Refrigerant Quality within Evaporator), issued in February 2014, is one of the cornerstones of the NXTCOLD electronic refrigerant injection control (ERIC), very low charge (VLC) ammonia refrigeration system designs. Numerous NXTCOLD-related patent applications are pending.                                              
FE: What is your current relationship with the owners of LACS?
Scherer: I do work with them and for them.
FE: How does NXTCOLD comply with and surpass government regulations limiting the amount of ammonia to be stored at any one location?
Scherer: Typically, we use about 1 percent of the ammonia compared to a regular pumped liquid overfeed system. But while a conventional system uses a common engine room with a large, single charge of ammonia that can run over thousands of feet throughout a facility, we locate separate and independent units on the roof as needed. Our biggest units use up to 30 pounds, but many of our other units use five pounds or under and, therefore, can be located close to the area they serve.
In Los Angeles, we're retrofitting LACS systems for many reasons including high liability exposure and related insurance premiums. Also, monitoring a central ammonia system containing 10,000 pounds (of ammonia) can cost half a million dollars per year.
Plus, with a system using 10,000 pounds or more of ammonia, a worst-case scenario leak could affect large downtown areas. But with the NXTCOLD system, a unit can use as little as five pounds of ammonia. We've dumped out this amount on the roof of one of our buildings to demonstrate to regulators and other experts how little danger it poses.
FE: In general, how does NXTCOLD work?
Scherer: One difference is we use a proprietary multiple point liquid injection process in the evaporator, much like a car's fuel injection system. It's electronically controlled for optimum conditions in the evaporator,  with as much ammonia as possible in the vapor state to meet the needs of the cooling application while maintaining great heat transfer characteristics.
The system's evaporator doesn't depend on temperature for operation. All it cares about is the quality of the refrigerant. The refrigerant is two-phase, meaning liquid and vapor are present in some combination. Even though we use 1 percent of the ammonia many traditional systems need for operation, it's still a two-phase system, and we continuously measure the electrical properties of the refrigerant to monitor quality. Traditional systems—including DX—are affected by temperature, and that's one of several reasons for their reduced stability and performance.
In a traditional system's evaporator, anywhere from 20 to 30 percent of the evaporator's coil serves no other purpose than to heat (superheat) the refrigerant. By not requiring superheat in the coil's operation, you can operate with optimum efficiency. Consider a coil with a 75 ton cooling capacity. It will typically hold (at 100 percent density) about 1,000 pounds of ammonia. If you're operating at 50 percent density, which is an accepted number in some charge determinations, it would contain 500 pounds of ammonia. Because we're operating without as much fluid density, the coil contains about 1 percent of the mass occupied by a conventional system, or about five pounds of ammonia.
FE: What kind of efficiency improvement can companies realize from a NXTCOLD system compared to other refrigeration systems?
Scherer: Compared to a state-of-the-art, modern overfeed system, the NXTCOLD system is about 7.5 percent more efficient.
But compared with HFC (hydrofluorocarbon) systems, NXTCOLD is about 30 percent more efficient. Because HFCs are slowly being phased out due to environmental concerns, we've found an increased interest in NXTCOLD, both for its efficiency and safety. Ammonia liquid is impossible to explode. Yes, ammonia vapor can explode if it's confined, but we don't have enough vapor in any one system confined to such an extent that it will explode.
Supermarket chains have been approaching us about using ammonia to chill a CO2-based system. Right now, efficiency-wise and cost-wise, it's state of the art. If you cool liquid CO2 with ammonia for grocery display cases, the combined system will use less power than HFC systems, and it's also green. Where HFCs are $10-20 per pound, ammonia is only 60 cents per pound, and CO2 is about 20 cents per pound.
FE: Is this technology available now?
Scherer: Yes. We've been running several installed systems in different geographies to check their performance after hours of service. One test cell that began operation in early 2012 has been running nearly every day since. We've also put in several operating systems including one in Los Angeles to accumulate hours.
We've been working with world-leading manufacturers to build and support these systems, and although we don't currently have a website or sales team, we do have commitments and orders for around 200 units ranging in capacities from 10 to 125 tons of cooling.  v
---
For more information:
John S. Scherer, NXTCOLD, JScherer@nxtcold.com,
213-624-1831 (ext. 252) or 213-923-0456 (mobile).