Stonyfield, an organic yogurt maker, is launching an organic frozen yogurt dessert in collaboration with Cambridge, MA-based WikiFoods, Inc. What makes Frozen Yogurt Pearls so different? It's made up of scoops of frozen yogurt enveloped in all natural, edible skins—like the skin of a grape. And it was developed to be handheld, melt-free, portion-controlled and waste free.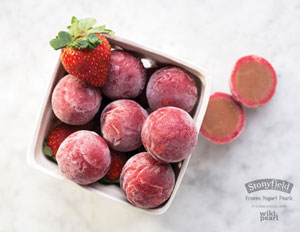 Stonyfield Frozen Yogurt Pearls are enveloped in an edible package for a waste-free, portable snack. Source: Stonyfield.
"Thirty years ago, we set out to make Stonyfield a truly sustainable business, coming up with ways to reduce packaging," says Kristina Drociak, communications manager for London, NH-based Stonyfield. "We've long dreamed of truly sustainable packaging, where after you eat the yogurt, you eat the cup, too. When our Co-founder and Chairman Gary Hirshberg first heard about WikiFood's work on edible packaging inspired by nature, he contacted the inventor of the technology and founder of WikiFoods, Inc., Dr. David Edwards, and soon after, the Frozen Yogurt Pearls project was in the works."
Stonyfield Frozen Yogurt Pearls leverage a technology inspired by the way nature packages fruits and vegetables. The pearls' skins are made from organic fruit using the patent pending WikiPearl technology developed by Edwards, which harnesses the natural electrostatic interactions between the skin's ingredients (fruit and natural ions). The frozen yogurt can be washed, carried and handled without being damaged, creating new possibilities for on-the-go snacking. 
The pearls are approximately the size of a golf ball and come in a variety of flavors. Retail spaces aren't yet equipped to sell the product completely package free. So, two in-store solutions have been developed to cut down on unnecessary packaging. Initially it will be sold in the freezer section in small, biodegradable cellulose bags made from wood fiber. Also, over-the-counter mini-Wikibars will be set up at three Whole Foods stores in the Boston area to allow consumers to sample and purchase the Frozen Yogurt Pearls in bulk in environmentally friendly containers.  
---
For more information:
Kristina Drociak, kdrociak@stonyfield.com