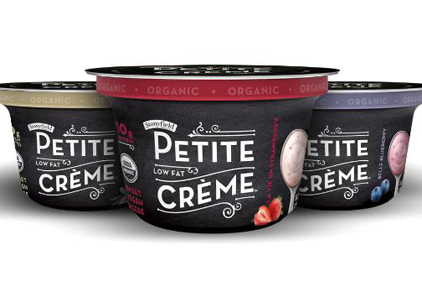 As consumer trends come and go, protein-packed Greek yogurt has staying power among its cultured counterparts. But for those not into it, Stonyfield is hoping to capture the protein trend with a new alternative known as Petite Crème.
Not-exactly yogurt, Petite Crème is similar to fromage blanc, a silky-sweet fresh cheese popular in France that is eaten like yogurt, but has a mild, creamy taste and texture.
"As organic Greek yogurt makers ourselves, we're not trying to replace Greek, but we know that there are people out there looking for something to add to their fridge and others who never really got into Greek yogurt," said Sophie Schmitt, director of marketing at Stonyfield.  "We discovered some people are eating Greek yogurt even though they don't like it. We wanted to give each and every one of those people something to love."
According to the Wall Street Journal, Greek yogurt accounts for about 47 percent of the total US yogurt sales. Stonyfield hopes this new product will help the company capture a larger portion of this market.
Stonyfield's Petite Crème will come in seven flavors and is made with cheese cultures added to organic milk instead of yogurt cultures, which gives it its mild, fresh flavor.