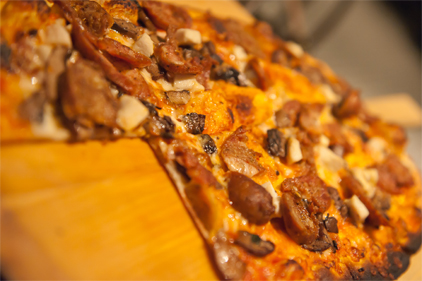 Not known to always be the healthiest of diets, mobile food-ordering service GrubHub Inc. and online food publication Spoon University have teamed up to unwrap the eating habits of college students.
Together, they were able to confirm there were drastic differences between the eating habits of students and the general population, particularly when it came to caffeine and food ordering hours.
To complete the study, GrubHub researchers analyzed orders placed by students from hundreds of college campuses during the 2013-2014 school year. Traditional take out foods such as pizza, wings and salads were popular, but there were differences between the students and an average user of GrubHub.
Specifically, students ordered 83 percent more energy drinks compared to other users, while they requested 15 percent less coffee. Early morning orders between 6 a.m. and 9 a.m. were 66 percent less common while late-night orders between 10 p.m. and 2 a.m. were 100 percent more common.
Spicy foods, vegan, vegetarian foods and desserts were ordered less frequently.
"The habits displayed by college diners, and the takeout restaurants that cater to this population, help illustrate the inherent differences between college culture and the rest of the nation," said GrubHub Inc. president, Jonathan Zabusky.
Certain foods were ordered much more frequently among college students with Italian and Chinese foods earing the highest rankings. Some of these foods were calzones, chicken with broccoli, General Tso's chicken, sesame chicken, dumplings, wings, chicken parmesan, sweet and sour chicken, wonton soup and fries.