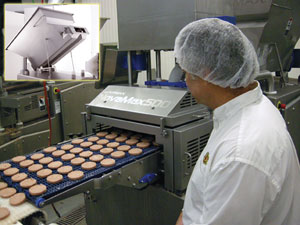 The NovaMax500 forms hamburger patties at JTM Food Group faster and more consistently than earlier systems, and several features such as the pivoting hopper (inset), make the machine much easier to clean thoroughly. Source: Provisur.
A family-owned business, JTM Food Group started more than 40 years ago in the retail meat industry and prides itself on working closely with customers to develop ideas for custom food products sold to schools, restaurants, healthcare groups, convenience stores and retail grocery stores. "Quality and consistency are synonymous at JTM," says Joe Maas, vice president, operations. "We're able to take a customer's idea and bring it to a finished product within days. Plus, we help people create safer kitchens; we deliver fully cooked products to our customers."
From its early days as a butcher shop to the business it is today, the company has taken off. "We've had 30 years of continuous growth to get us to the point where we are now," explains Maas. "We make the product in much larger batches."
To satisfy its increasing production needs, JTM Food Group, located in Harrison, OH, invests heavily in advanced technology. For example, JTM has installed two new Formax NovaMax500 forming systems from Provisur Technologies. Deemed the "Formax room," the area housing this technology also includes a mixer/grinder, a pre-break grinder and conveyors.
Immediately after installing them, the processor discovered these systems set a new industry standard: improved food safety and sanitation, 45 percent more output, greater portion control and less giveaway, plus the lowest cost of ownership.
"But the most important thing is producing a product that is safe for people to eat," states Maas. "The NovaMax is much better designed for food safety because it's easier to clean, and even during operation, it runs more consistently."
Contributing to a food-safe operation, the machines have fewer moving parts and are easy to clean.  They feature a unibody construction and a rigid one-piece pump box that saves time while assuring effective washdowns. The pivoting feed-screw drives, a hopper and removable feed screws enable easy, thorough cleaning and reduce maintenance time and costs.
Maas reports the plant's new forming machines also are faster and quieter—and have far fewer maintenance issues—than earlier equipment. "These machines are purring like kittens," he notes. "It is really refreshing and impressive to see the level of R&D and total improvement in them. Formax has gone the entire route and put together the best possible machines available on the market today, complete with an ultra-sanitary design."
The NovaMax500 from Formax, a Provisur Technologies brand, creates high-quality end products and provides optimal operational throughput while consistently ensuring hygiene. This next-generation replacement for the F-19 forming system helps processors meet stringent customer demands while reducing costs and improving portion control and machine maintenance.

For more information:
Brian Perkins, Provisur, 312-204-6053, brian.perkins@provisur.com, www.provisur.com