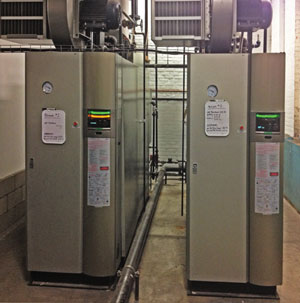 Two gas-fired Miura LX-100 steam boilers provide steam and hot water on demand while keeping NOx emissions low at Two Roads Brewing Company. Source: Miura.
Two Roads Brewing Company of Stratford, CT makes an array of year-round and seasonal beers, including Road 2 Ruin, Workers Comp Saison, Igor's Dream and No Limits Hefeweizen. Although dedicated to taking the road less traveled in choosing the names and novel flavors for its popular brands, this new company has joined a growing list of craft brewers that have chosen boilers for their ultra-low NOx emissions and ability to provide on-demand steam, which saves energy.
For its brewing facility, Two Roads chose two gas-fired Miura LX-100 steam boilers. "We had heard positive things about Miura from other brewers, especially those who were putting in new installations," says Brewmaster Phil Markowski. "Good word of mouth is what led us to Miura."
The Miura boilers Two Roads chose have a once-through, fin-tube design that heats a smaller volume of water more efficiently than conventional systems. This, combined with built-in precision microprocessor-control technology, reduces fuel usage and saves an average of 20 percent annually on energy costs. The fin-tube architecture also enables the boilers to generate full steam from a cold start in five minutes or less and allows the boilers to manage changing load conditions, as opposed to consuming energy while idling in stand-by mode.
"We like the fact that our Miura boilers are very energy efficient and quick to respond when we have to get them up to pressure," says Markowski. "We don't have to continuously keep a large volume of water hot or wait for the boilers to produce adequate steam pressure before we can start."
Two Roads uses the boilers' on-demand steam for heating water for the brewing and cleaning processes, as well as boiling and mashing. The steam is also used for heating detergents for the kegging machine and filtering steam to sterilize the inside of beer kegs. In addition, the fin-tube design and precision control of the boilers reduce output levels of nitrogen oxides (NOx), a major contributor to air pollution, and carbon dioxide, the most prevalent of greenhouse gases. The boilers achieve low-NOx performance by lowering the temperature of the boiler's flame, which reduces the number of excited nitrogen atoms available to bond with oxygen to form nitrogen oxides.
"Having low-NOx emissions was an important factor in our choosing the Miura boilers," says Markowski. "The compact size of these boilers was another. The space where we installed our two LX-100s would never accommodate a traditional fire-tube boiler with similar horsepower."
Every Miura boiler features an advanced diagnostic system that can identify any potential problems and recommend a solution on an easy-to-read display. The supplier also provides an Economizer package option, an energy-saving component that works as a heat exchanger to capture and reuse heat from the boilers' hot stack gas.
The microprocessor system can interface with the boiler's colorimetric feature, which monitors water quality to prevent the buildup of scale inside the unit. Users also can opt for BOILERMATE water-treatment chemicals, the main ingredient of which is silicate, an environmentally friendly corrosion inhibitor.

For more information: Mike Algermissen, 972-386-7848, mike.algermissen@miuraz.com, www.miuraboiler.com