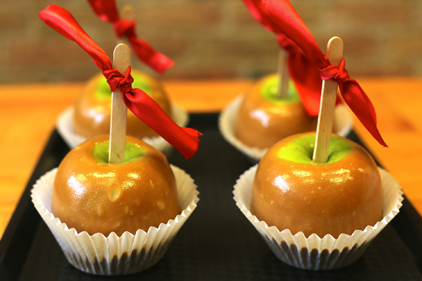 CDC is collaborating with public health officials in several states and the U.S. Food and Drug Administration (FDA) to investigate an outbreak of Listeria monocytogenes infections (Listeriosis) linked to commercially produced, prepackaged caramel apples that has caused multiple deaths.
The Minnesota Departments of Health and Agriculture first reported the outbreak in December. Four people in the state became ill between October and November. All four were hospitalized, and two died.
In its most recent update, CDC says as of December 30, 2014, a total of 32 people were reported to be infected with the outbreak strains of Listeria monocytogenes from 11 states. Thirty-one people were hospitalized and six deaths have been reported. CDC says Listeriosis contributed to three of these deaths and it is unclear whether it contributed to an additional two deaths. The sixth death was unrelated to listeriosis.
Since the outbreak, three voluntary recalls of commercially produced, prepackaged caramel apples have been announced by Happy Apples, California Snack Foods, and Merb's Candies after hearing from Bidart Brothers, an apple supplier, that there may be a connection between Bidart Brothers apples and this listeriosis outbreak, according to CDC.
Health officials say the investigation is evolving, and they are working with national partners to determine the scope of the products impacted. New information will be provided as it becomes available.
Listeriosis is a serious infection caused by eating food contaminated with the Listeria monocytogenes. The disease affects primarily older adults, pregnant women, newborns and individuals with weakened immune systems.
The information CDC has at this time indicates commercially produced, prepackaged caramel apples contaminated with Listeria may be causing this outbreak. Consequently, CDC recommends that consumers do not eat any plain caramel apples, as well as those containing nuts, sprinkles, chocolate or other toppings, until more specific guidance can be provided.