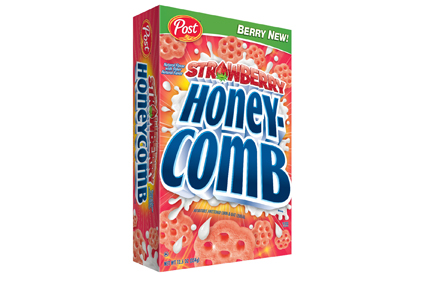 In the food industry, it's sometimes better dig up the past than deliver something new. At least, that was the thinking behind a recent move by Post Foods which became the latest manufacturer to capitalize on an ongoing trend to revive discontinued products.
Offering its consumers a little taste of nostalgia, the company decided to bring back Strawberry Honeycomb cereal for the first time in nearly a decade.
First introduced in 1983, Limited Edition Strawberry Honeycomb became was hit with cereal lovers nationwide but were later discontinued.
"Honeycomb's one–of–a–kind playful shape has made the cereal an instantly recognizable breakfast classic. We're excited to bring Strawberry Honeycomb back to the market — not only will it be a blast from the past for our current Honeycomb fans, but it will help introduce the brand to a whole new generation of cereal lovers," said Sue Fruzzetti-Reich, senior brand manager at Post Foods, LLC.
The Post cereal is the second in recent months to get a reboot after General Mills resurrected French Toast Crunch last year.
The reintroduction of discontinued products has been an ongoing trend in the food industry among manufacturers lately.
In September last year, the Coca-Cola Company brought back Surge after a 12-year hiatus, and Mars Chocolate North America resurrected its M&M's Crispy after being off shelves for a decade. In their decisions to bring back the products, manufacturers have stated they have been impressed with consumers' brand loyalty and overall engagement through social media, which contributed to their final decisions to bring back the brands.
 The new Strawberry Honeycomb combines corn and oat hexagonal shapes coated with a burst of strawberry. The product will be available at select grocery stores nationwide though fans of the cereal can zero in on the product by using the Post Foods store locator at www.PostFoods.com/where-to-buy/.