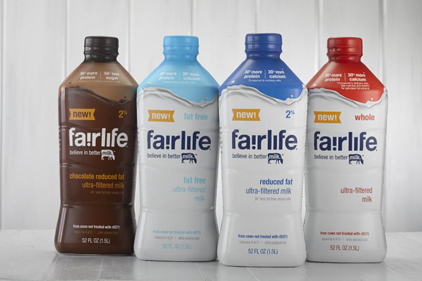 Coca-Cola's Minute Maid Division is rolling out the nationwide distribution of fairlife, LLC, a new premium milk option that the company says uses cold-filtration to deliver 50 percent more protein, 30 percent more calcium and half the sugar of ordinary milk.
The product capitalizes on growing consumer demand for protein packed foods that will give American families the extra nutrition they desire, though at a higher price.
According to fairlife, the key to the product is its patented cold-filtration innovative process in milk, which enhances the product's natural nutrition without the use of protein or calcium additives.
fairlife uses milk provided by its founding company Select Milk Producers, a dairy co-op that with a commitment towards quality, animal care and environmental sustainability.
"fairlife is a transformational innovation that retains the purity of real milk yet significantly improves its health benefits and taste," says Mike McCloskey, a former veterinarian, active dairy farmer and CEO of the co-op. "Our patented filtration concentrates the best of milk's natural nutrients, like protein and calcium, while filtering out the lactose and reducing the sugars – we're very excited to be taking a superfood and making it even better, with more goodness than ever."
 Distributed by Coca-Cola, the product is available in fat-free, reduced fat (2 percent), whole and chocolate reduced fat (2 percent) varieties.