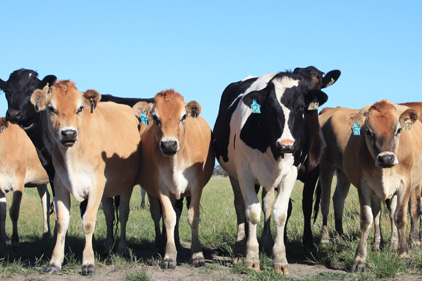 The Canadian Food Inspection Agency (CFIA) says the Alberta cow that tested positive for bovine spongiform encephalopathy (BSE), commonly known as mad cow disease, was born two years after the country instituted tougher bans on animal feed to prevent the disease. Officials say cases of BSE are rare in Canada, and this is the first positive case in four years.
After an investigation, CFIA determined the cow was born in March 2009 on a farm in northern Alberta near Edmonton. The farm has been placed under quarantine. Canadian officials say the farm is cooperating with the investigation, and the agency is focusing its efforts on reviewing farm animal and feed records to assess if other animals are at risk.
Paul Mayers, vice-president of policy and programs at CFIA, says the agency does not expect its trading partners to make any changes regarding access to Canadian beef. "The government of Canada is committed to protecting human and animal health and takes the management of BSE very seriously," Mayers says. "The case has been reported to the World Organization for Animal Health, also known as the OIE, in line with Canada's international obligations and our commitment to transparency."
Animal health has remained in the news in the US as well, with USDA's National Institute of Food and Agriculture (NIFA) and the United Kingdom's Biotechnology and Biological Sciences Research Council (BBSRC) announcing a partnership to research animal disease prevention.
The agencies say five jointly funded research awards, totaling more than $2.3 million from NIFA and $3.5 million from the BBSRC, were awarded to the US-UK Collaborative Animal Health and Disease and Veterinary Immune Reagents program. USDA says the partnership addresses high-impact diseases and animal health issues relevant to both countries.
"As a leading livestock-producing nation, the health of the people in the United States and around the world depends on the safety, security and quality of the livestock we produce," says Sonny Ramaswamy, NIFA director. "These grants enable an international research partnership that looks to control the spread of pathogens, ensuring we can effectively reduce the health risks and environmental impacts of food production worldwide."
According to USDA, research funded through this program will look at the biological and physiological mechanisms in relation to disease prevention in cattle, goat, sheep, swine, poultry, horses and aquaculture species. Specifically, the projects will address the development of immune reagents, breeding for genetic resistance to disease, studying the ecology of diseases spread by vector insects and developing improved vaccines.
 More information and a detailed description of the 2015 awards can be found here.