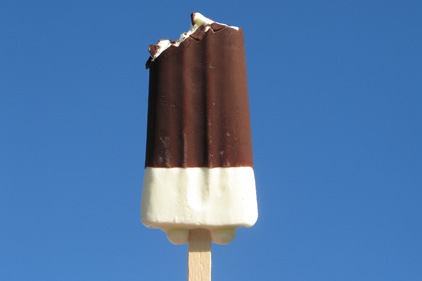 With not one carton of its products remaining on store shelves, Blue Bell Creameries is embarking on a fresh start by initiating an intensive cleaning and training program at all its production facilities that were closed following an outbreak of Listeriosis, which was linked to the company's ice cream products.
On Monday, the company said it had begun the initiative by conducting a new training program for its employees at all four production facilities located in Alabama, Oklahoma and Texas. Blue Bell made the decision after a thorough review of its operations and consulting with an expert microbiologist.
As a result of increasing health concerns, Texas-based Blue Bell made the decision to pull all its products from stores nationwide last week because the frozen desserts have the potential to be contaminated with Listeria monocytogenes.
The decision, announced Monday, was a result of an enhanced sampling program initiated by Blue Bell which revealed Chocolate Chip Cookie Dough Ice Cream half-gallons produced on March 17 and March 27 contained the bacteria. The company has had several positive tests for Listeria in different places and plants. As previously reported, five patients were treated in Kansas and three in Texas after testing positive for Listeria monocytogenes.
In a video statement, company CEO and President Paul Kruse said the company is "heartbroken" over this recall and Listeria problem. "Ice cream is a joy and a pleasure to eat," he said. "It certainly is for me, I do it every day. It should never be a cause for concern, and for that, we do apologize, and we are going to get it right."
The voluntary recall included all ice cream, frozen yogurt, sherbet and frozen shakes manufactured by the company. Blue Bell distributes products to approximately half of the states in the US, including many in the South and Midwest.
Blue Bell issued its first recall in company history last month when an outbreak of Listeriosis was linked to ice cream products manufactured at its production facility in Brenham, TX. This recall was later expanded to include other products. According to Blue Bell, on March 22, the Kansas Department of Health and Environment reported a single positive test for Listeria monocytogenes on a chocolate ice cream cup originating from a hospital in Wichita, KS. This cup was produced in the Oklahoma plant on April 15, 2014.
Authorities say five adults were infected with Listeriosis from January 2014 to January 2015. The five individuals were all patients who were treated at a single hospital in Kansas and were served ice cream from Blue Bell's single-serving products and milkshakes made from these products, according to hospital records. Three deaths also have been reported. Listeriosis did not cause the deaths, though it may have been a contributing factor, according to Kansas health officials.
While Blue Bell works on making changes, consumers should not expect to see the ice cream back on shelves immediately. The company says ice cream is being produced, but it is being used for testing and gathering baseline data and will not be sold to the public.
"At every step, we have made decisions in the best interest of our customers based on the evidence we had available at the time," Kruse says. "At this point, we cannot say with certainty how Listeria was introduced to our facilities, and so we have taken this unprecedented step. We continue to work with our team of experts to eliminate this problem."
To correct the problem, Blue Bell announced its training and future improvements will include:
   - Highly aggressive cleaning techniques
   -Increased actions focused on sanitation and cleanliness
   -Strengthening of standard operating procedures
   -Enhancements to its preventative maintenance program
   - Equipment design changes.
"We've always worked to make the very highest-quality ice cream," Kruse says. "We intend to make a fresh start, and that begins with intensive cleaning and enhanced training. This is a paradigm-shifting event at Blue Bell, and we want to put in place new systems to drive continuous improvement."
To ensure consumer safety, Blue Bell announced it is implementing a procedure called "test and hold" for all products made at every manufacturing facility. This means that all products will be tested first and released to the market only after the tests show they are safe. The Broken Arrow facility that closed earlier this month will remain closed as Blue Bell continues its investigation.
Additional safety procedures and testing include:
-Expanding the system of daily cleaning and sanitizing of equipment
-Expanding the system of swabbing and testing the plant environment by 800 percent to include more surfaces
 -Sending samples daily to a leading microbiology laboratory for testing.