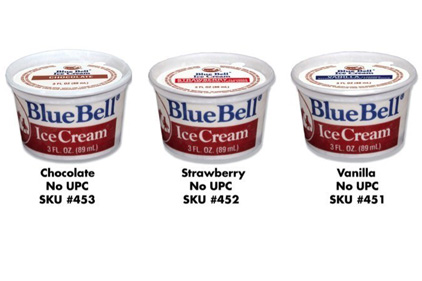 Blue Bell Ice Cream issued a recall for its 3 oz. institutional/food service ice cream cups because they have the potential to be contaminated with Listeria monocytogenes.
According to Blue Bell, on March 22, the Kansas Department of Health and Environment reported a single positive test for Listeria monocytogenes on a chocolate ice cream cup originating from a hospital in Wichita, Kansas. This cup was produced in the Broken Arrow, Oklahoma plant on April 15, 2014.
The recalled cups are chocolate, strawberry and vanilla flavors with tab lids. These products are not sold at retail establishments and no illnesses have been reported to date.
The ice cream cups were distributed in Alabama, Arizona, Arkansas, Colorado, Florida, Georgia, Illinois, Indiana, Kansas, Kentucky, Louisiana, Mississippi, Missouri, Nevada, New Mexico, North Carolina, Ohio, Oklahoma, South Carolina, Tennessee, Texas, Virginia and Wyoming via food service accounts.
Earlier this month, Blue Bell issued the first recall in company history when an outbreak of Listeriosis was linked to ice cream products manufactured at its production facility in Brenham, Texas according to FDA.
Authorities say five adults were infected from January 2014 to January 2015. The five individuals were all patients who were treated at a single hospital in Kansas and were served ice cream from Blue Bell Creameries' single-serving products and milkshakes made from these products, according to hospital records. Three deaths have been reported. Listeriosis did not cause the deaths, though it may have been a contributing factor, according to Kansas health officials.
 Blue Bell says it has removed all the affected ice cream products from the market. No Mooo Bars, pints or half gallons were affected by the recall.