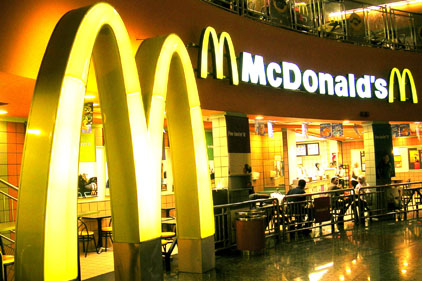 In order to bring more focus on customers to keep up with changing demands and increase company accountability, McDonald's announced the initial steps of a turnaround plan that includes a worldwide business restructuring and financial updates.
"Today we are announcing the initial steps to reset and turn around our business," said Steve Easterbrook, company president and CEO. "As we look to shape McDonald's future as a modern, progressive burger company, our priorities are threefold - driving operational growth, returning excitement to our brand and unlocking financial value."
In a 23-minute video released Monday, Easterbrook said there is an urgent need to reset their business and called its recent performance "poo" while referring to its structures as "cumbersome."
Easterbrook added, "The immediate priority for our business is restoring growth under a new organizational structure and ownership mix designed to provide greater focus on the customer, improve our operating fundamentals and drive a recommitment to running great restaurants. As we turn around our business, we will look to create more excitement around the brand and ensure that we build on our rich heritage of positively impacting the communities we serve."
The company will be restructured into four new segments beginning in July:
US - the company's largest segment, accounting for more than 40 percent of the company's 2014 operating income;
International Lead Markets - established markets including Australia, Canada, France, Germany and the UK, which operate within similar economic and competitive dynamics, offer similar growth opportunities and collectively represented about 40 percent of the company's 2014 operating income;
High-Growth Markets - markets with relatively higher restaurant expansion and franchising potential including China, Italy, Poland, Russia, South Korea, Spain, Switzerland and the Netherlands. Together these markets accounted for about 10 percent of the company's 2014 operating income; and
Foundational Markets - the remaining markets in the McDonald's system, each of which has the potential to operate under a largely franchised model. Corporate activities will also be reported within this segment.
 More information can be found here.