Packaging
Food Packaging
Beauty is skin deep
In response to consumers moving from frozen product to refrigerated fresh fish, Sealed Air Food Care creates a new packaging solution.
When Massachusetts-based Pier Fish Company, Inc. was looking for new seafood packaging, the company focused on the needs of the retailers it supplies. "Our retailers are looking to provide wholesome, good-looking fish with a consistent quality," says Scott Bode, chief operations officer for Pier Fish. The company decided to use the Cryovac Darfresh 10K OTR vacuum skin package from Sealed Air Food Care that was introduced to the market last year.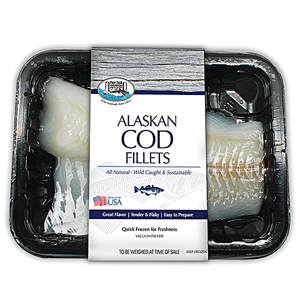 Pier Fish Company, Inc. uses the Cryovac Darfresh 10K OTR vacuum skin package, which allows retailers to purchase frozen fish, thaw it and sell it fresh, all in the same packaging. Source: Sealed Air.

"We've been using it since fall 2014, "Bode says. "It has reduced shrink to below minimal, and sales have been increasing every month."
The application allows retailers to purchase frozen fish, thaw it and sell it fresh, all in the same packaging. "One of the key things is that this has eliminated purging," says Bode. "With the skin pack, the product looks the same, whether it is one day old or four days old."
Thawing frozen fish in other packaging had caused challenges for Pier Fish, such as the product undergoing noticeable appearance changes. However, Bode says, the Darfresh 10K OTR packaging has solved this problem. "The product looks the same, frozen or fresh," he says. "It's more eye-appealing."
Recently, consumers have been moving toward refrigerated fish and away from frozen. However, according to Sean Brady, market development manager for Sealed Air Food Care, packaging fresh fish products has caused color and shelf life problems in the past. Additionally challenging are the FDA regulations, which require all fresh fish to be sold in packages with a 10,000 oxygen transmission rate.
Bode says Pier Fish has experienced tremendous success in the short time it has used the Darfresh 10K OTR vacuum skin package and plans on offering it to more of its retailers.
"It's easier, it looks better, it eats better, and it's safer," says Bode.
Recently, the Flexible Packaging Association presented Sealed Air's Food Care division with the Flexible Packaging Achievement Award for two of its packaging solutions. The company's Darfresh on Tray system received the Highest Achievement Award, while Cryovac Freshness Plus active barrier won gold awards in the technical innovation and sustainability categories.
The Darfresh on Tray is a premade tray system with vacuum skin that eliminates film scrap, using 40 percent less material than other tray skin offerings. The Freshness Plus active barrier is designed to extend shelf life and reduce unnecessary food waste by maintaining the freshness and aroma of the packaged product.

For more information: Jaclyn Deter, jaclyn.deter@sealedair.com, www.sealedair.com.


I want to hear from you. Tell me how we can improve.