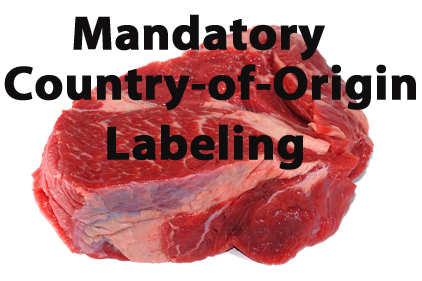 Last week, the US House Agricultural Committee approved a bipartisan bill that would repeal the country-of-origin labeling requirements for beef, pork and chicken by a vote of 38-6—two days after the World Trade Organization (WTO) rejected the US appeal of the law, ruling it discriminates against Canadian and Mexican livestock.
"This bill is a targeted response that will remove uncertainty and restore stability for the United States by bringing us back into compliance," says Michael Conaway, R-Texas, committee chairman. "We must do all we can to avoid retaliation by Canada and Mexico, and this bill accomplishes that through a full repeal of labeling requirements for beef, pork and chicken. I appreciate all the support from my colleagues on both sides of the aisle. We will continue working to get this to the House floor as quickly as possible to ensure our economy and a vast range of US industries and the men and women who work for them do not suffer any economic implications of retaliation." 
The country-of-origin labeling law, or COOL law, would require a label to be placed on meat packages detailing where an animal was born, raised and slaughtered. Consumer groups lobbied for the rule, but Canada and Mexico complained about it to the WTO, which sided with them. If implemented, some in the food industry feel Canadian and Mexican retaliation against American exports would be unavoidable.
The North American Meat Institute applauded the committee's vote. "Today's action is the first step toward full repeal and can help the United States avoid the retaliatory tariffs promised by Canada and Mexico," said NAMI President and CEO Barry Carpenter.
Carpenter added that although COOL proponents claim consumers are demanding the information and support the law, an analysis of the marketplace suggests otherwise. "Research by Kansas State University showed no change in demand for products after the labels went into effect," Carpenter said.
Last week's ruling by WTO was the fourth and final decision on the law. In its three previous decisions, WTO it has ruled against the COOL law.
In October 2014, WTO's compliance panel ruled in favor of Canada and Mexico, finding the COOL measures treated Canadian and Mexican livestock less favorably than that from the US.
Specifically, WTO concluded "the amended COOL measure increases the original COOL measure's detrimental impact on the competitive opportunities of imported livestock in the US market, because it necessitates increased segregation of meat and livestock according to origin; entails a higher recordkeeping burden; and increases the original COOL measure's incentive to choose domestic over imported livestock."
The US filed its appeal less than two months later. US courts previously found the law did not violate free speech.
The House Agriculture Committee noted Canada and Mexico's intentions to retaliate, stating it would affect a number of products from meat and fruit to jewelry, furniture and biofuels. In Texas alone, the committee said the tariffs would affect $9.2 billion worth of exports.
"Pending arbitration, retaliation claimed by Canada and Mexico could be economically devastating," the committee said. "Canada and Mexico are our top export partners, and these preferred relationships are vital to our local and national economies. The tariffs would harm companies and threaten jobs in every state."
 The full bill can be found here.