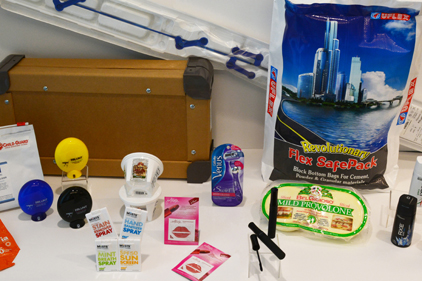 Packaging innovations in food and beverage stood out at this month's 27th annual DuPont Awards for Packaging Innovation ceremony which honored companies from 11 countries. With nearly 140 entries from 25 countries, DuPont said this year's competition will be remembered as the year of design since 77 percent of the winners were honored for design excellence in enhancing user experience.
Canada-based IPL, Inc. earned the program's highest honor for its salsa container dubbed "SkinnyPack" technology. This mono-material package marries flexible and rigid packaging to create a thin, light, strong structure that uses less material, enables recycling and allows more message space. 
"This year's winners stand out as leaders in packaging innovation," says William Harvey, president, DuPont Packaging & Industrial Polymers. "They exemplify how collaboration, innovation and packaging excellence converge to generate game-changing solutions that positively impact our lives."
The judges evaluated companies on three criteria—technological advancement, responsible packaging and enhanced user experience. One diamond winner, five gold winners and seven silver winners were announced based on "excellence in one or more of these categories."
"The winners demonstrated the power of integrating precision engineering, design and technology in a way that brings multi-sensorial yet functional packaging to delight consumers," says Yasmin Siddiqi, DuPont Packaging Awards program leader.
This year's food and beverage packaging winners included:
2015 Diamond Winner: IPL, Inc.—Canada; Ana's Foods—USA
Through collaboration with IPL, Ana's Foods replaced its rigid salsa containers with the SkinnyPack, a flexible-rigid container that combines the advantages of thin, flexible film (lightweight, flexible and printable) with the advantages of a strong, rigid frame (sturdy, structural component).
The package is an injection-molded polypropylene container made by fusing a thin, flexible in-mold label film to a sturdy, rigid frame. This process ensures a strong adhesion between the film and injected plastic, allowing the packages to remain sturdy and strong throughout production, filling, transport, distribution and consumer use.
The lighter-weight, thin-walled SkinnyPack uses 54.8 percent less plastic than the original salsa containers. The mono-material packaging structure allows the container to be 100 percent recyclable.
DuPont said the unique design allows the product to stand out on shelves, while high-clarity film windows offer a look inside to give consumers confidence in the product prior to purchase.
"In developing the SkinnyPack, IPL and Ana's Foods took existing technology to a whole new level. With the properties of both flexible and rigid packaging, the SkinnyPack highlights the world of possibilities that exists for packaging," DuPont wrote.
2015 Gold Winner
Pactech Packaging; Reynolds Presto Products—USA: This easy-opening, slider-based flexible pouch allows products that had been previously packaged in child-resistant boxes or bulky plastic containers to be packaged in flexible packaging.
2015 Silver WinnerBemis Company, Inc.—USA: Bemis SmartTack EZ Peel Reseal technology allows  individual cheese compartments to be sealed separately, preserving the freshness of the unused portion until opening, reducing food waste and creating differentiation at the club store level for BelGioioso Cheese.
 Photos and descriptions of all the winners can be found here.