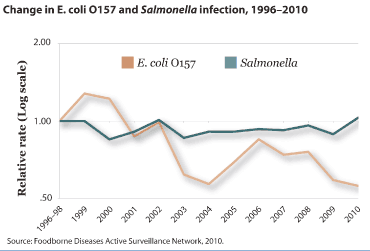 While E. coli infections have been trending downward, there is still work to do
in reducing Salmonella infections. Source: CDC.
Created in March 2009 by President Obama, the Food Safety Working Group (FSWG) has released a progress report detailing steps it has taken to improve food safety in the US and presenting the steps it plans to take in the future to continue to strengthen food safety. The FSWG is a central coordinating mechanism for the federal government's food safety activities, and is led by the Department of Health and Human Services (HHS) and the USDA.
The FSWG's core mission is to strengthen federal efforts and develop short-term and long-term strategies to improve food safety. Partner agencies include HHS's FDA, USDA's FSIS and HHS's Centers for Disease Control and Prevention (CDC), as well as the Environmental Protection Agency, Department of Homeland Security, Department of Commerce, Department of State and the Office of the US Trade Representative.
So far, the FWSG has taken several steps to reduce the occurrence of foodborne illness caused especially by Salmonella, E. coli, Campylobacter and Listeria. They include:
1. Reducing bacterial pathogens in food—For example, the FDA's egg safety rule sets new requirements to prevent 79,000 illnesses and save $1 billion each year. FDA also published a Draft Guidance for Salmonella in Animal Feed. FSIS reissued a directive and began a new verification testing program for beef bench trim and also is increasing its sampling to find E. coli. FSIS also declared six additional types of E. coli as adulterants in beef.
2. Improving food safety—FDA issued commodity-specific draft guidance on agricultural practices to reduce the microbial contamination in the production and distribution of tomatoes, melons and leafy greens. The Produce Safety Alliance was established as a three-year public-private partnership funded by FDA and USDA and housed at Cornell University.
3. Preventing intentional adulteration—FSIS, FDA and DHS collaborated with the National Center for Food Protection and Defense to study economically motivated adulteration of food products and identify potential indicators of adulteration.
4. Taking other preventive measures in food safety—These include residues (residual drugs, pesticides and environmental contaminants), undeclared allergens and test-and-hold measures for meat and poultry.
Additional steps the FSWG has taken to prevent foodborne illness include disease surveillance (e.g., PulseNet and CaliciNet); establishment of the Reportable Food Registry; participation of FDA, USDA and CDC in the National Antimicrobial Resistance Monitoring System; and the monitoring of imports, which account for 15 percent of the total US food supply. Imports are covered by the Food Safety Modernization Act (FSMA), which was enacted on January 4, 2011. FSMA provides FDA with new powers to regulate food produced in the US and abroad.
Looking ahead, the federal food safety agencies will build on past prevention efforts and harness the new mandates of the FSMA to strengthen prevention of foodborne illness. Areas of involvement include pre-harvest food safety; preventative control requirements for produce growers, food and animal feed processing facilities and food transporters; retail food safety; enhanced surveillance and compliance through domestic inspection; import safety; foodborne illness surveillance and incident investigation; and product testing. Other issues include improved response times for outbreaks, better data analysis, consumer education and additional partnerships.
As good as these steps are, if they're not funded, progress on these food safety issues will slow. "It is promising to see the continuation of the Food Safety Working Group, which was established by President Obama early in his administration," says Caroline Smith DeWaal, Center for Science in the Public Interest (CSPI) director. "Funding of the food safety programs at FSIS, FDA and CDC must be protected from across-the-board cuts. This funding is vital to further reduce the impact that major food safety problems pose for consumers and industry alike."
"Effective communication can save lives during outbreaks and other food crises," adds DeWaal. "The administration should set timelines for better integrating IT systems to ensure that agencies can share information effectively."
"Finally, last summer's major food outbreak in Europe from a new E. coli strain, and several recent US outbreaks posed by antibiotic-resistant strains of Salmonella in ground meat, underscore the problem that such emerging pathogens pose," says DeWaal. "The agencies should develop a unified system for identifying and addressing emerging pathogens in the food supply."
Download the complete report, The Federal Food Safety Working Group Progress Report.