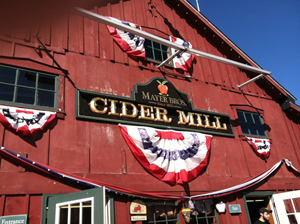 Lighting retrofits at three Mayer Brothers facilities cut electrical costs more than $120,000 per year and will pay for themselves in one year. Source: SmartWatt.
Mayer Bros., a family owned-and-operated, fine beverage producer and distributor of bottled water, juices and cider, is saving more than $121,000 in total utility costs due to a lighting retrofit engineered by SmartWatt Energy, Inc. The projects were completed at three of the producer's food processing and warehouse facilities throughout western New York.
SmartWatt Energy conducted a construction-grade energy audit of the facilities, including warehouse, office, loading dock, maintenance and processing space, and developed a plan to replace the existing metal halide and fluorescent lighting system with a more energy-efficient fluorescent lighting system.
The new energy-efficient lighting installed by SmartWatt Energy will save 708,276 kWh of electricity per year and will be equivalent to removing 1,062,415 lbs. of carbon dioxide from the environment. This project also came with utility and tax incentives of $154,025 and will pay for itself in just 12 months.
Future plans include assessing potential mechanical upgrades that can further increase energy efficiency at Mayer Brothers' facilities.
For more information, visit SmartWatt's website.