Stellar has added to its staff Danny Bazemore, regional accounts and sales manager, refrigeration services; Bassem Khoury, electrical engineer, food & beverage facility services; Brian Kirley, mechanical engineer, refrigeration services; Erin Metcalf, project engineer, food & beverage facility services; Otto Rosasco, project manager, refrigeration services; Bhaumik Tandel, electrical engineer, Stellar Energy; and Roger Womack, quality assurance engineer, refrigeration services.
Bauer Gear Motor, part of Altra Industrial Motion, headquartered in Braintree, MA, opened its first assembly plant in China, in a move to streamline the growth of localized sales and support in this expanding region.
Atlas Copco Compressors appointed Tom Poot as business line manager for oil-free products in the United States.
Charlie Ingram, Eriez vice president of sales and marketing, announced that Robertson Equipment Company of Strongsville, OH earned the Eriez 2011 Merwin Award.
Pilgrim Software, Inc. appointed Ron Kozlin as its chief financial officer.
Watts Water Technologies appointed Malcolm Kinnaird as vice president, sales, marketing and business development – Americas.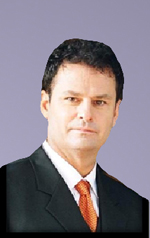 Stellar's Graham Bland
Stellar has expanded into China to offer its food and beverage A&E services to manufacturers and distributors, growing their operations in the Asia-Pac region. To manage its Chinese operations, Stellar recruited Graham Bland, an engineering and construction executive with more than 30 years of professional experience, who has lived and worked in China since 1997.
Brookfield Engineering Laboratories appointed Vincent Hebert to the position of product manager - powder flow tester. Hebert will assume responsibility for sales of the tester in the Americas and will coordinate worldwide sales with Brookfield's international offices.
Terry Biederman joined GE Intelligent Platforms as water industry leader.
Red Lion Controls expanded its management team with the appointments of Subrata Guha as executive vice president of sales and Michael Evelhoch as vice president of finance.

Edward Alan Steele joined Bettcher Industries, Inc. as director of engineering.

Amway plans to build a 48,000-sq.-ft. extraction and concentration facility in Port of Quincy, WA to process ingredients for nutritional products sold under its NUTRILITE brand. The $31.8 million facility should be operations by 2014.