New Products
Technology Sourcebook
Planetary mixers
Ross planetary mixers are available with sealed and purged gearbox assemblies for sensitive applications requiring protection against contamination. Designed for sanitary formulations, the mixers have 2 rectangular planetary blades that rotate on their own axes, while they orbit the mix vessel on a common axis to move viscous fluids or wet granulations.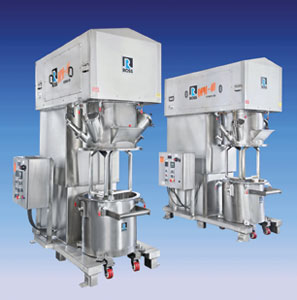 The stainless steel, heavy-duty gearbox housing includes a sloped cover to prevent contamination and pooling of condensed liquids; solvent vapors and airborne particles are prevented from entering the purged gearbox. The mixers feature a gable-roofed bonnet to avoid dust or water collection. All ports and connections are sanitary tri-clamp design. Atomizing spray nozzles are installed on dedicated ports to control the addition of liquid raw materials into the batch.
Charles Ross & Son Company; 800-243-ROSS;


I want to hear from you. Tell me how we can improve.