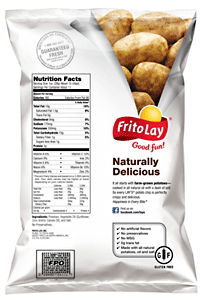 Frito-Lay announced an initiative to validate and label products as gluten free. Source: Frito-Lay NA.
PepsiCo's Frito-Lay North America division has launched a multi-year initiative to validate many of its products as gluten free, with package labeling to follow. Since many of the company's snacks, such as Lay's Classic potato chips and Fritos Original corn chips are made from simple ingredients like corn or potatoes, they are naturally made without gluten ingredients. While gluten is found in most grains, people with gluten sensitivities—such as Celiac disease—are particularly affected by gluten from wheat, barley and rye.
Frito-Lay, therefore, is not removing gluten from products, but has developed a gluten-free validation process with input from the Food Allergy Research and Resource Program (FARRP) and the Celiac Disease Foundation (CDF) for testing ingredients and finished products to ensure they contain less than 20 parts per million (ppm) of gluten before making a "gluten-free" claim. This level is in accordance with the limit set forth by the FDA in its Proposed Rule for Gluten Free Labeling (2007).
The gluten-free claim that Frito-Lay is adding to qualified products appears in the form of a "GF" icon and/or a statement on the back of the bag. The processor indicates changes to packaging are being phased in, but will take some time until all qualified products sport new labels. For an up-to-date listing of applicable Frito-Lay gluten-free products, visit the processor's website.