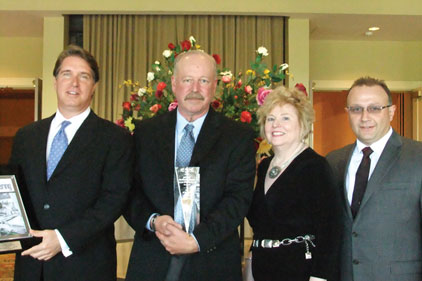 Brian King of A M King, Dennis Colliton of Northeast Foods, Joyce Fassl of Food Engineering and Rich Tommy of Northeast Foods participated in the Plant of the Year Award ceremony held during the 2012 Food Automation & Manufacturing Conference.
The engineering team from Northeast Foods' Automatic Rolls of North Carolina hamburger bun manufacturing facility, winner of Food Engineering's 2012 Plant of the Year award, participated in a special presentation at FE's annual Food Automation & Manufacturing Conference. More than 200 food and beverage industry executives and suppliers attended the conference and Plant of the Year Award ceremony held in April in Fort Myers, FL.
High throughput characterizes all Northeast Foods plants, but this greenfield facility, located in Clayton, NC and a sole supplier to McDonald's restaurants in the Southeast, utilizes an unconventional approach to traditional automation, quality and sustainability.
According to Food Engineering Editor in Chief Joyce Fassl, the key reasons the facility was named the 2012 winner included a novel, state-of-the-art baking pan orientation/gantry system with interconnected AS/AR system; more than 15 types of fully automated systems; and significant green practices including oven heat recovery and solar-heated water.
Fassl presented the 2012 award to Northeast Foods Vice President of Engineering Dennis Colliton, who was joined by Rich Tommy, vice president and plant manager of the Clayton facility. In addition, Fassl presented a plaque to Brian King of A M King Construction for the firm's innovative engineering and construction management of the Northeast Foods plant project.
A complete report about the Food Automation & Manufacturing Conference can be found on pages 77-82 in this issue. For more information about the award-winning Northeast Foods facility, see the April 2012 issue of Food Engineering.