New Products
Technology Sourcebook
Crispies coater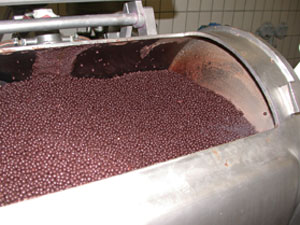 The Lodige Ploughshare mixer coats extruded cereal products (crispies) with chocolate and glaze. At the start of the coating process, raw crispies are loaded batchwise into the mixing drum at room temperature. The peripheral speed and geometric form of the mixing tools are calculated to form a moderate, but intensive, fluidized bed. Dosed by a pump, the liquid chocolate and glaze are injected onto the bed through open pipes. The product movement and resulting rubbing of the individual crispies within the bed evenly distribute the liquid mass onto the surface of the extruded product.
Gebr. Lodige Maschinenbau GmbH; www.loedige.de


I want to hear from you. Tell me how we can improve.