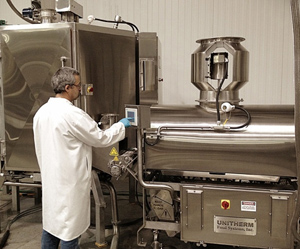 Unitherm had Garden Fresh ship its original product to the factory kitchen where the products were tested using different types of cooking and chilling equipment until the perfect mix was found. Source: Unitherm.
The challenge to smaller food processors on a fast-growth track is how to expand production to meet the explosive demand for their products. Where modest food processing equipment was sufficient when they got started, many find they must locate cost-effective equipment that can serve as a bridge to meet higher volume requirements while retaining the authenticity and quality of the dishes they produce.
The food processing equipment issue was quite familiar to Jack Aronson, CEO of Garden Fresh Gourmet brand foods in Ferndale, MI, the producer of a broad line of handcrafted, all-natural salsa, guacamole, tortilla chips, hummus and other ethnic foods. Starting out as a husband-and-wife team that made a fresh blend of artichoke salsa on a small table in the back of their restaurant, Aronson's company has grown from $4 million in sales in 2004 to over $100 million this year.
"We're experiencing a lot of growth in ethnic foods," Aronson explains. "So there is an inherent need for those products to be fresh and natural, and to use authentic ingredients. That's one of the reasons why ethnic foods like salsa, guacamole and hummus are healthy."
His passion for creating authentic traditional foods led Aronson to questions about what kind of food processing equipment would enable Garden Fresh to meet skyrocketing demands while retaining the traditional appearance, taste and texture of the foods that were previously handcrafted in a small kitchen.
In addition to increases in the varieties and volumes of salsas, the company wanted to keep up with the booming popularity of hummus throughout much of the world. At the same time, Garden Fresh was looking to expand its product line to include Lebanese kofta (an Indian dish of seasoned minced meat), cubano peppers and possibly other ethnic dishes, so flexibility of equipment was also important.
"With an eye to the present and future, we looked at a lot of different types of equipment," says Aronson. "Then a business associate mentioned Unitherm Food Systems makes a cutting-edge line of cooking and chilling equipment that might be ideal for our company."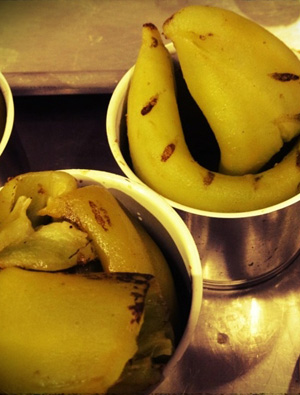 The sales of ethnic foods will grow by another 20 percent in the next couple of years, with diversity increasing from earlier in the decade when Mexican/Hispanic foods were dominant with more than 60 percent share of ethnic food sales. Source: Unitherm.
The line includes equipment that is compact yet productive and affordable, such as mini flame grills and continuous mini spiral ovens and chillers. Unitherm had Garden Fresh ship its original product to the factory kitchen where it tested the products using different types of cooking and chilling equipment. This was important in making equipment choices, according to Aronson.
"They recommended specific systems as well as parameters such as cook times and temperatures," says Aronson.
Aronson says the equipment he bought brought him up to speed in product volume while also enabling him to retain the quality that is essential to Garden Fresh foods. It also allows him the flexibility to handle his growing assortment of products.
"When I do things on a large scale, such as eggplant for my hummus, it goes through the fire-roaster in about 45 seconds," explains Aronson. "If it is a thick product, like carrots, it also has to be cooked on the inside. So, we put the carrots through our fire roaster to get the caramelization that enhances appearance, and then we bake them in the spiral oven, which finishes the cooking process."
Garden Fresh also uses the new fire roaster to cook peppers that are used in several dishes, including salsas. "We used to roast peppers on a gas grill, which was a very painstaking method," says Aronson. "But when we got a large account, it was obvious that we needed a new approach. Now, using a spiral oven, I can now do 1,000 lbs. of vegetables in the spiral oven in the time it took me to do 20 lbs. in a gas oven."
Unitherm's flame griller and mini flame griller systems function as standalone cookers or searing ovens that may be used directly inline with a continuous oven. Adjustable flame burners allow for the enhancement of flavor, color and yield. The spiral ovens, available in full-size, mini and micro sizes, are recommended for steaming, roasting, broiling and baking, as well as post-pasteurization, and can be coupled with a chiller and loading systems to suit processing needs.
Aronson adds that one of the other benefits of the spiral oven is its compact size, which translates to high-volume output in a relatively small space. Because the oven spirals in a vertical direction, the footprint can be as small as 7 ft. x 7 ft. x 5.5 ft.
For more information, David Howard, 918-367-0197, unitherm@unithermfoodsystems.com