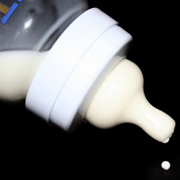 It's been almost four years since China's dairy industry suffered the melamine contamination crisis, but chemical contaminations continue to plague the industry. At the end of June, Shanghai-based Bright Dairy & Food recalled a batch of its Ubest-brand milk products after an investigation revealed the products may have been contaminated with lye, according to the city's quality and technical supervision bureau.
An investigation by the bureau found food-grade lye that was used to clean pipes had leaked into and contaminated a production line at one of the company's plants due to a mechanical malfunction during regular maintenance procedures, according to a Shanghai city bureau spokesman.
According to the China Daily, the Shanghai dairy said it had removed the milk, sold in 950-ml packages, from retail shelves and tried to recover those that had already been sold to customers.
In another case of contamination reported in the middle of June, Inner Mongolia Yili Industrial Group, one of China's biggest dairy product manufacturers, suffered a setback when batches of baby formula were found to contain excessive amounts of mercury. In a statement on its website, the company says it is recalling all formula milk powder for infants in the Quanyou 2, 3 and 4 series produced from November 2011 to May 2012.
At present, China has no standards on mercury limits in milk powder. But to be responsible to consumers, the company decided to recall all related products. Wang Dingmian, former vice-chairman of the Guangdong Dairy Association, told the China Daily the country permits no more than 0.01 milligrams of mercury per kilogram in raw milk.
According to the China Daily, the General Administration of Quality Supervision, Inspection and Quarantine tested 715 samples of infant milk powder brands in the Chinese market, and no sample showed an abnormal level of mercury content except the sample from Yili.