Manufacturing News
Sustainability
TECH FLASH
Ensuring the sustainability of sustainability efforts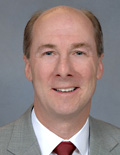 Tom Egan, vice president, industry services, PMMI.
To reduce their carbon footprint and meet consumer demand for "greener" packaging, brand owners are changing materials or reducing the volume of materials they use wherever and however they can. These efforts are often communicated on product labels, assuring consumers the new package is recyclable, made from recycled materials, contains less plastic, etc. What consumers don't read about are the many behind-the-scenes measures that go into facilitating such changes.
"Transitioning to a new or lighter packaging format does not guarantee the anticipated level of sustainability benefits," says Tom Egan, vice president, industry services, PMMI. "Without the proper adjustments to the packaging line, running a new or lighter format can negatively impact sustainability efforts. Packaging formats that cannot withstand the manufacturing process are bound to be damaged and incur costly waste, which is the exact opposite of being sustainable."
Virtually every change to a package requires a change to the manufacturing line, whether it's as simple as an adjustment to the infeed and speed or as complex as a highly specific redesign. "For example, let's examine the lightweighting of the water bottle. The material reduction efforts we've seen in this packaging over the past few years have been very successful, involving less resin and thus a smaller carbon footprint for brands," says Egan.
The bottles are rigid when full, but exhibit attributes more characteristic of a soft-sided pouch when empty, sometimes collapsing in the consumer's hands. Further reducing the thickness of the container walls could make the bottle too delicate to run on fast-moving packaging lines, according to Egan.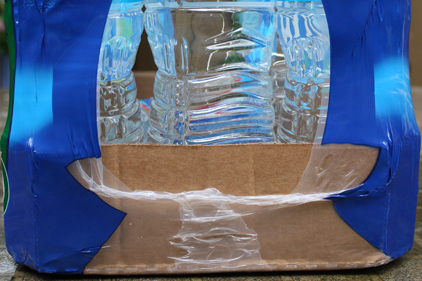 Decreasing packaging is a challenge for a case of 12 1.5-l water bottles (end view).
Companies began implementing a short-skirt cap design along with the lightweight bottle, and that required additional changes. With a shorter cap, manufacturers needed to change torque profiles to ensure the cap would close with slightly less than one turn—rather than the one and a half turns required by larger caps. The capping equipment had to be adjusted to accommodate the new torque profile, and cap the new bottles at speeds to match the rest of the line, says Egan.
"Few consumers understand the complexity of such a project," he says. "For example, when Fowler Products, a Pro Mach brand, which makes custom bottle-capping equipment, was trying to perfect a redesign to ultimately result in significant material savings, its team had to collaborate with the customer, the line integrator and the bottle supplier."
In another example, redesigning the corrugated tray for bottled beverages transformed the end-of-line process, according to Egan. "When Polypack, Inc. worked with customers to reduce the amount of material in the tray, the effort ultimately led to placing strips of corrugated between the rows of bottles to provide rigidity. But the transformation didn't happen over night, and required specific modifications to the handling process to insert the corrugated strips between the bottles rather than place the bottles on a flat tray."
These examples represent two entirely different categories of packaging—primary and secondary—but there is a critical common factor in their success: Cooperation among the brand owner and equipment and materials suppliers, states Egan. "It is critical to involve all parties early in the process of a packaging format change to address key challenges and questions well before any modifications are made. Open communication and extensive testing will go a long way to ensure a better package goes to market while reducing the potential for a mishap on the line that could result in costly product waste."
Food and beverage manufacturers who want to enhance the sustainability of their packaging by using new or light-weighted formats will find the suppliers and other resources they need at PACK EXPO International 2012 (October 28-31; McCormick Place, Chicago). Please visit www.packexpo.com for more information about the show and registration.


I want to hear from you. Tell me how we can improve.