The first and second installments of this series on Developing & Engaging the Manufacturing Workforce, a paper by PMMI's Alliance for Innovation & Technical Excellence, looked at the difficulty of locating engineering/technical and production/operations staffing for positions in consumer goods manufacturing, education and training. This third and final installment looks more deeply at Gen Y and a 21st century operating model.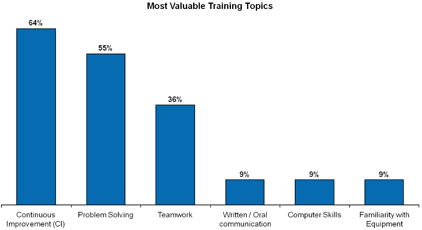 Training programs in continuous improvement and problem solving are the most valuable to manufacturers. Source: MESG, Booz & Company analysis.
Convincing Gen Y workers that the manufacturing environment is a critical and respected vocation, and is satisfying to their career aspirations, will take some work. The first step is a mixture of promoting public relations and backing up words with actions, according to the MESG (Manufacturing Excellence Share Group) white paper. Consumer goods manufacturers CEOs and other executives must wage campaigns to demonstrate the importance and value of manufacturing in the US. At job fairs, university graduation speeches, panel discussions and TV and radio appearances, they need to detail manufacturing's value to a vibrant economy and elaborate on what their companies are doing to help revive the country's prospects by expanding factory operations.
One panelist at the MESG discussion suggested a novel approach: rotating employees from one company to another, which would be a great way for employees to gain experience in different phases of manufacturing. Although this would not be a workable solution for many manufacturers, a 2011 Booz & Company survey of science and engineering undergraduates found their two primary career desires were to be on the cutting edge of technology and to be involved in sustainability and protecting the environment.
"They're amazed at the robotics and other new tools that are out there now on the manufacturing floor," says Greg Flickinger, vice president of manufacturing and corporate engineering at Snyder's-Lance. "They are energized to learn that new technologies are constantly being developed and implemented every year."
Case study: Sunny Delight
experiences delightful success
At the operating level, Sunny Delight was typical of many consumer goods manufacturers: A hierarchical, supervision model created arms-length relationships between workers and their managers. Most workers came to work—not out of loyalty—but because they had to be there.
The situation was particularly pronounced at the Atlanta plant, one of the beverage maker's largest manufacturing facilities. The facility suffered from high levels of quality problems, downtime and employee dissatisfaction. Though the company tried to alter the organization through a variety of approaches at various sites, nothing really worked. Attempts at better engaging employees didn't work either.
Realizing something more radical had to be done, Atlanta's plant manager, Amir Ghannad, and his supervisors put together a series of initiatives designed to create cohesive, collaborative teams comprised of individual workers who could use their own initiative to continually drive improvements. Most of the plant's employees attended an offsite meeting where important changes were made including:
►Jobs were broken up into four skill levels, each with specific benchmark goals and compensation rewards for achieved metrics.
►Annual performance appraisals were instituted with clearly identified development needs and goals.
►Autonomous teams were established, allowing workers to solve problems on the line before calling for help.
►A leadership development program was instituted, in which participants receive weekly training and mentoring as well as a three-day face-to-face workshop.
►Continuous improvement plans were developed, tied to incentives.
After more than a year of this new effort, Sunny Delight's Atlanta facility is a changed operation, and has become the beverage maker's model facility. Equipment breakdowns and process failures have declined around 50 percent, yielding a corresponding increase in worker productivity. Worker absenteeism and overtime are down 10 percent and 17 percent respectively. Quality incidents have been eliminated completely, and customer complaints have fallen by more than 75 percent.
According to MESG, support for sustainability and other efforts beneficial to the local community may be easier to demonstrate because many companies have already begun to participate enthusiastically in programs that spotlight their roles as good regional citizens. For example, some session participants spoke about implementing improved water and wastewater management in their plants; others said they're working on ways to reduce carbon footprints. In addition, many processors have programs in place to help the homeless and needy and to address food safety, waste and recycling.
Perhaps the greatest stumbling block to attracting Gen Ys and improving productivity of prior generations still on the job is the traditional operating model, says the white paper. Many manufacturers continue to operate under the hierarchical command-and-control models, which are an anathema to the flexible, empowered workplace ideals Gen Y embraces. These models also fail to tap the best talents of older workers who may be resistant to top-down management, but nonetheless want a sense of autonomy and independence on the job. Of the MESG participants, 64 percent said they still use punch clocks, while 91 percent said their operating model requires supervisors on the line as opposed to employees working in autonomous teams with performance-based incentives.
To adopt a 21st century operating model, manufacturers need an integrated operating system that threads together these four elements:
Strategy to support manufacturing business objectives and performance philosophy
Measurement and accountability that links metrics across the plant network and performance targets and incentives to realistic plant goals
People and organization, which includes developing leaders, empowering workers and creating exceptional teams within clearly delineated organizational structures and decision rights
Operational excellence encompassing standardized processes and best practices, execution of continuous improvement and proven methodologies and tools.
Within this integrated operating model, manufacturers need to take the following steps toward developing and engaging the manufacturing workplace:
Build the capabilities and supporting processes to develop critical skills, e.g., problem solving.
Gain full commitment and support from senior management to work with factory floor teams.
Unambiguously define goals and responsibilities so every person on the production team knows his/her role and what is expected.
Align corporate functions to fit the change agenda.
Put people in jobs that suit their skills and personalities.
After the team coalesces around these steps, and the new operating model begins to be implemented, lean or operational excellence programs will have a greater likelihood of success. Signs of change may be manifested by bringing in a new plant manager or getting rid of the time clock. Or it may be tearing down an old AS/RS, whose tools and system are so outdated that it inhibits a processor from being responsive to its customers with accurate and on-time, filled orders.
The challenge to consumer goods manufacturers is clear, according to MESG. Are processors ready to move beyond isolated manufacturing improvements and incremental benefits and embrace a full-fledged workforce and production culture shift? Those that do won't be hard to find. They will be the distinctive manufacturers at the top rung of market share, productivity and performance in their sectors.