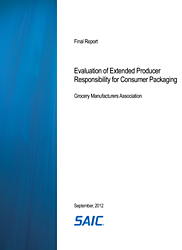 US communities and states that have implemented alternatives to extended producer responsibility (EPR) policies are achieving high municipal solid waste recycling rates at reasonable costs while also addressing a wider spectrum of the waste stream than narrowly focused EPR mandates, according to a study conducted by consulting firm SAIC for the Grocery Manufacturers Association (GMA). The report, Evaluation of Extended Producer Responsibility for Consumer Packaging, shows mandatory EPR programs aimed at food, beverage and consumer product packaging would not deliver their promise of creating more cost-effective residential recycling programs and driving packaging redesign.
"The food, beverage and consumer products industry is committed to environmental stewardship and reducing its impact on the environment," says Meghan Stasz, senior director of sustainability at GMA. "As part of this commitment, America's food, beverage and consumer products industry is working to identify efficient, holistic waste reduction and recycling solutions that work for consumers and communities, and this analysis by SAIC tells us that EPR does not meet those standards."
The study evaluated whether mandatory EPR policies for packaging are the preferred approach for meeting the environmental objectives of the consumer packaged goods (CPG) industry in the US. SAIC conducted a thorough analysis of recycling rates, system costs, packaging changes and other data from various European and Canadian jurisdictions that employ EPR for packaging. SAIC researchers also studied recycling and waste management data for areas of the US with high recycling rates, such as Ramsey County, MN (located in the Minneapolis-St. Paul metro area), a non-EPR region where the county and its cities have put many model municipal recycling policies and practices in place. Key findings were:
EPR does not necessarily result in improved overall recycling rates. At 24 percent, the recycling rate of all municipal solid waste in the US where there is no packaging EPR exceeds Canada's (18 percent) and the European Union's (23 percent), where EPR is widely employed.
EPR does not necessarily prompt changes in packaging design and selection.  Despite a faster-growing GDP, packaging use in the US declined at a faster rate than in the EU, where EPR is common.
EPR does not necessarily make waste and recycling systems more efficient or otherwise decrease costs. Ramsey County, MN, a non-EPR jurisdiction, has a lower net cost per ton ($156) than EPR programs in Manitoba ($166) and Ontario ($202). In fact, EPR programs increase government and administrative costs.
States and municipalities already have at their disposal a suite of non-EPR policies that are both effective and efficient in terms of raising recycling rates. Together, they can achieve high recycling rates, without the excess cost or administrative burden that results from EPR.
"The CPG industry is focused on responsible solutions that address solid waste across the entire lifecycle—from design to disposal to recovery—and that account not only for packaging, but food waste as well," says Stasz. "The most successful recycling and waste recovery programs will result from comprehensive approaches that leverage industry innovation and collaborative partnerships between NGOs, government and industry, not one-size-fits-all mandates."