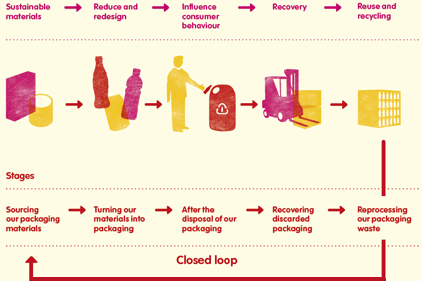 This schematic describes how CCE's recycling system will work. For a larger image, click on the picture. Source: Coca-Cola Enterprises.
Coca-Cola Enterprises (CCE), which produces, markets and distributes Coca-Cola products in Western Europe, has announced two initiatives focused at improving recycling behavior and infrastructure as part of its mission to become a low-carbon, zero-waste business. Plans are two-fold: achieve zero waste in its own operations and recycle more packaging that it uses.
CCE is establishing a new joint venture in France with PET recycler APPE to boost the capacity of its plastics reprocessing facility by 70 percent. The joint venture will recycle 20,000 additional tons of plastic into food-grade packaging per year. CCE is also funding a research partnership to explore how consumer behavior-change strategies can improve at-home recycling rates in Great Britain and France. 
Recycling rates in Great Britain and France remain below most other European countries, despite growing awareness of environmental concerns among consumers. Only approximately half of plastic bottles are collected for recycling in these two countries. As a result, manufacturers face restrictions in the supply of locally available recycled PET.
"Our goal to lead our industry in sustainable packaging and recycling means we must support and promote improvements throughout our value chain," says John F. Brock, chairman and CEO of CCE. "These initiatives aim to address two of our biggest challenges in this area—improving recycling rates by influencing consumer behavior at home and meeting the increasing demand for recycled PET through investments in strategic infrastructure projects."
While consumers express strong beliefs related to recycling, at-home recycling rates do not reflect their intent. For example, 79 percent of consumers polled at the 2012 Olympics Games claimed to always recycle plastic bottles at home, yet national data shows recycling rates are much lower.
The research program will seek to define interventions that can overcome this gap between belief and behavior. It will be delivered in partnership with the University of Exeter and will be based upon in-depth, ethnographic research of households in Great Britain and France over a 10-month period.
"Our approach will be to work intensively with households to understand how recycling and waste behaviors have developed and how the dynamics within family units influence such everyday practices," says Dr. Stewart Barr, associate professor of geography at the University of Exeter. "In this way, we will work alongside households to co-create strategies to embed sustainable recycling patterns in the future. This project will provide valuable knowledge for a wide range of businesses seeking to influence environmental behaviors, as well as government and NGOs."
The scope of the research project will be developed in partnership with CCE's stakeholders through a Collaboration Forum, which was held in central London for the sustainability community, industry partners, customers and suppliers. A webcast of the Collaboration Forum can be viewed at http://www.cokecce.com.
CCE's investments in strategic infrastructure partnerships seek to ensure a holistic approach to the recycling challenge. The CCE/APPE €6.5 million joint venture will invest in a new line at APPE's existing recycling facility in Beaune, France and fund the trial and introduction of state-of-the-art technology, enabling more efficient recycling. To view a video describing CCE's sustainability efforts in general, visit CCE's website.