New Products
Technology Sourcebook
Dual-shaft mixer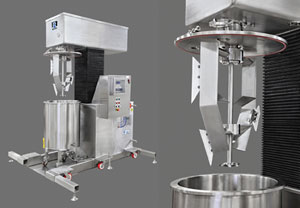 The Ross Model CDA-30C portable dual-shaft mixer has a working capacity of 10 to 30 gal. An air/oil hydraulic lift raises and lowers the agitators, 3hp 2-wing anchor and 5hp high-speed disperser. Each agitator is independently controlled, making the system suitable for fine-tuning shear levels and flow patterns over a range of viscosities. Hinged Teflon scrapers are attached to the wings of the anchor agitator for wiping the sidewalls and cone-shaped vessel bottom. A Type J thermoprobe installed on the mixer cover extends to the center of the batch for accurate temperature monitoring.
Charles Ross & Son Company; 800-243-ROSS; www.mixers.com


I want to hear from you. Tell me how we can improve.