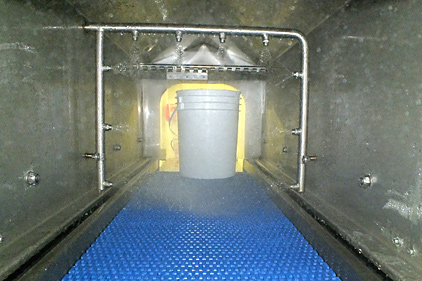 The sanitizing tunnel is available in different sizes to accommodate various containers. Sanitizing sprays can include chemicals to protect containers in longer periods of storage. Source: CM Process Solutions.
Fresh Food Solutions at Flying Food Group (FFG) serves over 300,000 fresh, quality meals and snacks daily to customers in the airline catering, grocery, foodservice and specialty markets. Customers include over 70 premier airlines—primarily international carriers—and leading food retailers, including Starbucks' cafés across the US.
No food processor would knowingly permit pathogens or other contaminants to enter the processing plant. Yet, when a processor allows packages containing outsourced food ingredients to be received and go into the plant without being sanitized, it takes a similar risk.
"There is not always a clear understanding when we are talking about the areas of low-risk and high-risk or high-care areas in the food processing plant," says Farzad Shahsavarani, VP of operations, Fresh Food Solutions at FFG. "Keeping foods free of contaminants requires a lot more than just walls and doors and traffic flow. Some processors don't realize that contaminated containers entering the plant are exposing their products to environmental impurities and possible pathogens."
"This is strangely an American problem," says Mark Corser, CEO of CM Process Solutions, Corona, CA. "I say that because in the US, many food processors are using highly advanced technologies throughout their plants, but when it comes to sanitizing containers as they come to the plant, that is often overlooked."
Shahsavarani says in Europe, sanitizing food containers arriving from outside sources is routine. "The food processing industry there is largely self-policing about this," he says. "However, in the US, that is not a routine practice. But in the future, it is very likely that higher global safety standards like GFSI [Global Food Safety Initiative] will come into play. This would include sanitation of food packaging."
Shahsavarani adds that what is needed is a fail-safe system that provides assurance containers are fully sanitized on all sides before they enter high-risk or high-care areas of processing plants. Typically, he thinks this would be an automated system, such as a conveyor belt and spray tunnel, that sanitizes packages of all types with a uniform concentration of sanitizing solution as they travel from low-risk to high-risk or high-care areas.
This type of sanitizing equipment is often known as a "barrier tunnel" or "sanitizing tunnel" in Europe. The tunnel is a belt-driven, conveyor system that sprays a mixture of water and a sanitizing agent to disinfect the containers before they are sent into the food processing plant and opened. Sanitizing sprays are normally composed of a mixture of water and 1/2-1 percent detergent formula. Although most detergents kill bacteria and other biologicals on contact, a formula is available to protect containers that are likely to be stored for hours or even days.
A variety of sanitizing tunnel sizes and configurations is available, including design-built, customized models. A good example of a typical system is the Econosan distributed by CM Process Solutions.
The sanitizing system conveys the container through a tunnel where a solution of sanitizing detergent is misted onto the items from the top, bottom and sides. The speed of transit through the tunnel can be set and easily adjusted to operate at between three and 12 ft. per minute, according to the user's requirements.
Although this equipment doesn't contribute directly to profits, it certainly qualifies as a good insurance policy against potential recalls for any container-borne pathogens or other contaminants from getting into finished food products, says Corser.
For more information, Mark Corser, 951-808-4376 or visit CM Process Solutions.