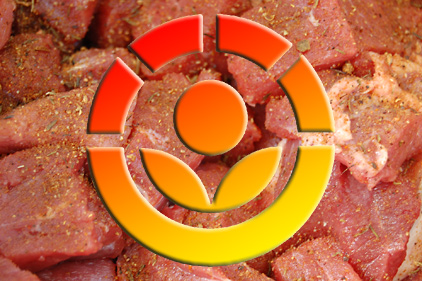 In response to petitions filed by USDA's FSIS, the Food and Drug Administration (FDA) announced two final rules increasing the maximum allowable dosage of irradiation in meat and poultry products. According to the Food Irradiation Update, FDA amended its food additive regulations to "provide the safe use of a 4.5 kiloGray (kGy) maximum absorbed dose of ionizing radiation to treat unrefrigerated (as well as refrigerated) uncooked meat" and meat byproducts to reduce the levels of pathogens and extend the shelf life of these products.
FDA also amended its food additive regulations to increase the maximum dose of ionizing radiation permitted in the treatment of poultry products. This change increases the approved maximum dose from the current 3.0 kGy to 4.5 kGy for non-frozen products and 7.0 kGy for frozen products. The poultry final rule also removes the current limitation that any packaging used during irradiation shall not exclude oxygen. This change allows the use of packaging that includes modified atmospheric packaging and vacuum packaging.
Both final rules still define radiation as an additive—while technically not an additive—that can affect the characteristics of the treated food. The radura symbol will continue to be used on the packaging. The full Federal Register notice for meat can be found here, and for poultry, here.